France's Front National founder Jean-Marie Le Pen angry over party suspension
Comments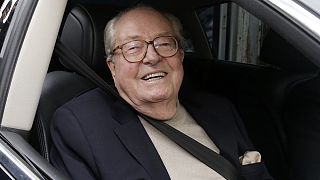 The founder of France's Front National party Jean-Marie Le Pen has reacted angrily to his suspension to the party.
Refering to his daughter, the current party leader Marine Le Pen, he said: "Let her get married as soon as possible. I do not want her having my name any more."
The move came after Mr. Le Pen refused to attend a party disciplinary hearing on Monday after making comments minimising the Holocaust.
He told reporters he would fight the suspension and would continue to speak out as he saw fit.
Marine Le Pen, who succeeded her father as party leader four years ago, said on Sunday she no longer wanted him speaking on the party's behalf, even though he had retained the position of honorary chairman.
On Friday he made a defiant appearance at the party's annual May Day rally in Paris.