La Repubblica TV, an Italian news outlet, has published amateur video from the Bardo museum attack in Tunis, whick left 20 foreign tourists dead.
It reveals the panic after gunfire was heard during Marcello and Maria Rita Salvatori's tour of the museum.
The video emerged on Tuesday (March 24) as staff began returning to the museum for the first time. It is expected to re-open to the public at the weekend.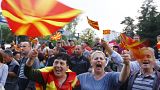 About 2,000 protesters gathered in FYROM's capital on Friday to demand new elections they hope will break the country's political deadlock.