Arab-Israeli 'Joint List' emerges as third power in Knesset
Comments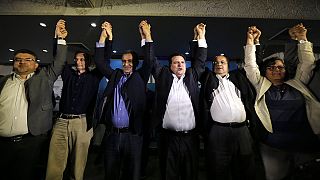 While the Likud party may have made a stronger than expected showing in the tightly fought Israeli election, a bigger surprise has been the performance by the so-called Joint LIst.
It's made up of an alliance of Arab Israeli parties and has emerged in third place.
While unlikely to join a government they might give a centre-left coalition tacit support and create a bloc against Netanyahu.
"Our people never break a promise," said Ayman Odeh, the Head of the Joint List. "We had an increase in the percentage of votes more than any time in the last 15 years. This is a big achievement for our people. We are the surprise of these elections. We will be the third power in the parliament. With our hands we will prevent the right-wing parties from forming the coming government."
Many Arab Israelis believe they are treated as second-class citizens and see the newfound political unity as an important step and tool towards fighting what they see as discrimination.
After the final results are in, and following consultations with political parties, it will be up to President Reuven Rivlin to name the candidate he deems best placed to try to form a coalition.