More than 70,000 people turned out in Moscow on Sunday (March 1) to pay tribute to murdered opposition politician Boris Nemtsov, who was gunned down near the Kremlin on Friday.
A shrine to Nemtsov, with hundreds of flowers, marks the spot where he was killed, under the gaze of Moscow's famous St Basil's Cathedral.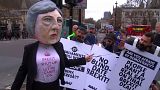 Demonstrators stage a protest outside of the Houses of Parliament ahead of the British PM Theresa May, triggering Brexit with Article 50.