More than 70,000 people turned out in Moscow on Sunday (March 1) to pay tribute to murdered opposition politician Boris Nemtsov, who was gunned down near the Kremlin on Friday.
A shrine to Nemtsov, with hundreds of flowers, marks the spot where he was killed, under the gaze of Moscow's famous St Basil's Cathedral.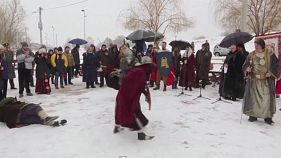 Sub zero temperatures in Serbia did not deter history and heritage fans.