Clothes, beds and hygiene products were amongst items handed out after some 450 families were forced to evacuate their homes in six neighbourhoods in the northern region of Bolivia bordering Brazil.
Since October at least 25 people have been killed and more than 17,000 households have been affected by heavy seasonal rains.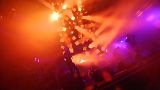 The French city of Lyon's "Nuit Sonores" electronica festival has kicked off for its 15th edition.