Carnival was in high gear in Rio de Janeiro's famed Sambadrome parade route Monday night as some of the city's top samba schools marched in front of thousands of screaming fans and tourists.
Racial pride and the fight against racism were the themes of samba group presentations and street parties as the festivities entered their second night.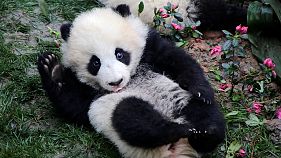 Giant pandas around the globe are welcoming the Spring Festival, or Chinese Lunar New Year, which falls on January 28 this year.