More than one million people have been forced to leave their homes in northern Nigeria as a result of the five-year insurgency of Islamist sect Boko Haram, a United Nations agency has said.
The UN children's agency, UNICEF says that children are suffering the dire consequences of the conflict in Nigeria, losing their homes, missing out on education and risking their lives.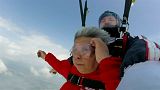 A 70-year-old grandmother has become an internet star in China after she took up skydiving.