An introspective silence shrouded Charlie Hebdo offices on Wednesday (January 14), as French citizens tried to come to grip with last week's violence that killed 17 people.
Many people travelled from outside Paris to see the memorial at Charlie Hebdo's offices, saying the gesture of solidarity gave them solace.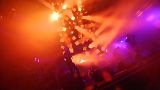 The French city of Lyon's "Nuit Sonores" electronica festival has kicked off for its 15th edition.