The funerals for four Jewish victims of the hostage-taking at a supermarket in eastern Paris have taken place in Jerusalem.
French Environment Minister Segolene Royal spoke at the service before presenting the families of the victims with posthumous Legion of Honour medals, France's highest accolade.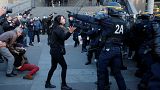 Tensions were running high on Paris' Bastille Square on Sunday night (April 23), at the end of a protest called by left wing militants.