The race to be the first carmaker to offer true autonomous driving just hit the fast lane as Mercedes-Benz unveiled its futuristic F 015 concept at the annual Consumer Electronics Show in Las Vegas.
The car's arrival on stage drew applause from the room as the doors of the car were opened to reveal that it was driving itself.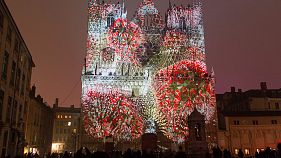 Thousands of people have attended Lyon's famous Festival of Lights amid high security.