"The situation is very dire": DR Congo hospital for rape victims assets seized
Comments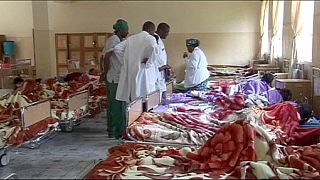 A hospital that treats victims of rape has accused the Congolese government of hounding it after tax authorities seized its assets.
If it is not resolved the hospital really could be threatened with closure... these are people's lives that are at risk.
Panzi hospital in Bukavu founded by gynecologist Denis Mukwege said it can no longer afford to pay staff after the tax authority issued a 500,000 euros tax bill with little warning.
Mukwege called the decision "unjustified" saying they have been the "the victim of a blatant discrimination". A statement released by Mukwege details the legal problems with the government's actions and says they amount to a violation of human rights.
Protests have been ongoing since December 31st and go under the hashtag #STANDWITHPANZI.
Les Mamans de Panzi sit in for justice #DRC#RDC#Congo#standwithpanzipic.twitter.com/in82OSa1J0

— Crisis In The Congo (@CongoCrisis) December 31, 2014
Image from #Panzi protest in #Bukavu today, after #Congo govt seized accounts, help here: text 'Panzi' to 41444 http://t.co/DiEVtqSnMA

— Elizabeth Blackney (@MediaLizzy) December 31, 2014
The facility which has treated 30,000 victims of sexual violence could now be in jeopardy.
"The work that is being done at the hospital is so vitally important and so crucial and there are patients that are waiting for care that cannot access care because of this action," Naama Haviv, incoming director of Panzi Foundation in the US told euronews.
"There are upwards of 300 patients at the hospital seeking treatment, survivors of sexual violence do not pay for their treatment this is a public service no other hospital in the area has the capacity to provide.
"We do know that the situation is very dire and that if it is not resolved the hospital really could be threatened with closure. People can't go on working without being paid and patients can't just sit there waiting for treatment. I mean these are people's lives that are at risk," explained Haviv.
The Belgian government called on the Congolese government to renounce the tax. Deputy prime minister, Alexander de Croo said, "with the new tax of more than 40,000 euros per month, the work of Dr Mukwege at the Panzi hospital is under threat."
Local activists believe the award-winning doctor is being singled out after recently criticising the government. On receiving the European Parliament's Sakharov prize in December he said "our country is sick but together we can heal it". In 2012 he had to leave the country along with his family after an attack on his home in Bukavu.