Boko Haram suspected of another mass kidnapping in Nigeria
Comments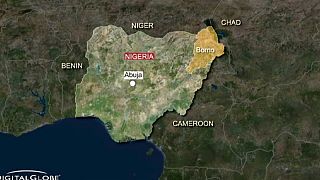 Reports in Nigeria say militants from the Boko Haram group are suspected of carrying out another mass kidnapping of women and children in the country's northeast.
Security forces say the latest attack was on Sunday, but it takes days for information to get through from remote regions.
It is reported 35 people were killed in the raid on the village of Gumsuri.
Boko Haram kidnapped more than 200 girls from a secondary school in April.
The group has been waging a campaign of terror and violence for five years now, attempting to set up an Islamic state.
Thousands of people have been killed and hundreds kidnapped, prompting calls for the government to get serious about tackling the militants and protecting civilians.
Cameroon's army says it killed 116 Boko Haram militants on Wednesday when they attacked a military base in the north of the country.
The latest kidnappings come in the same week that a Nigerian court sentenced 54 soldiers to death for refusing to fight Boko Haram.
The men were found guilty of mutiny, refusing to help recapture three towns from the militants.
Some soldiers have complained of not having enough weapons and ammunition.