Venezuelan President Nicolas Maduro calls former Spanish PM Aznar a murderer over Iraq war deaths
Comments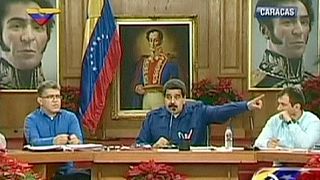 Venezuelan President Nicolas Maduro has called the former prime minister of Spain, Jose Aznar, a murderer for his role in the Iraq war.
Maduro said: "It's not enough that they destroyed Iraq, 1,200,000 were killed in Iraq because of Aznar, the murderer of Spain, the bloodthirsty murderer of Spain, the former Spanish president Aznar. I call him a murderer because he is responsible for the deaths of 1,200,000 Iraqis."
Maduro made the comments on Friday during a speech about falling oil prices which he said was part of a "geopolitical war."
Figures for the number of Iraqis who died as a result of the conflict since the US-led invasion range from 100,000 to half a million to more than a million.
The US-led invasion of 2003, which failed to obtain an additional Security Council resolution, was backed by Spain and Great Britain.The then UN Secretary-General Kofi Annan declared the war illegal.
The Spanish government responded saying the accusations were 'deplorable' and 'slanderous.'