Princess Charlene of Monaco gives birth to twins
Comments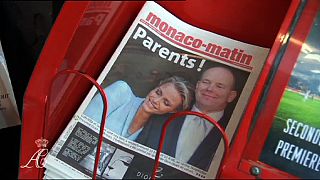 Princess Charlene of Monaco has given birth to twins, the royal household has announced.
I would like to share this happiness with all Monegasques.
Gabriella was born two minutes before her brother Jacques, but due to male inheritance laws it is the boy who will inherit the throne.
The twins were born in the hospital named after their grandmother Princess Grace, the late Hollywood actress.
"I would like to share this happiness with all Monegasques and with all residents of my country because I know you are united in the same feelings about the princess and I," announced Prince Albert.
Baby Jacques replace Prince Albert's sister Caroline as heir to the throne.
Monegasques celebrated the arrival of their new royals.
"I'm very happy for the prince and the princess, and for the succession of the princely palace, to have a boy at last," said Thierry from Monaco.
"It's a tight-knit community here, we feel much closer to the prince compared to a country like France where you have politicians who don't stick around," commented Bernard from Monaco.
It is the first birth for Charlene, while Albert has fathered two children considered 'illegitimate' as they were born out of wedlock.
The twins are the first for the House of Grimaldi which dates back to the 13th century.