Sex doesn't matter at French football club Clermont
Comments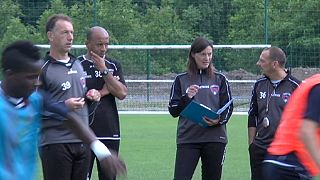 The hype of a cup game brings out the media in force at every football club. The added attraction of a high-profile coach heightens interest and that was the case for French outfit Clermont Foot as they prepared for their clash in with Epinal.
Corrine Diacre is the only female coach of a men's professional team in a major European country. She was handed a two year contract at Clermont after her predecessor resigned after 24 hours in the post.
While some may think it strange to see a woman sit in the dug out, for the coach herself gender is irrelevant and she bristles at her sex constantly being questioned.
"I don't want to answer that question. We are preparing for our next match and I ask you to focus on that match please," she snapped at the pre-match press conference.
"Show us your medals," is an oft quoted phrase used by professionals. Diacre has coached at national level with the French womens squad.
"Sometimes we lose and get nervous but since she is a woman it is different, we are not going to scream at her. We do not behave as we would with a a male coach. We can argue with a coach but it is not right to scream at a woman," said Idriss Saadi a striker at the club when asked about the squad's relationship with their coach.
You wonder how the post-mortem went on Saturday. Clermont were dumped out of the French Cup by Epinal from a lower league.