Caught on camera - children drugged and beaten in Romanian kindergarten
Comments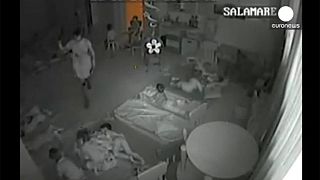 Accidentally released footage from a non-licensed Romanian kindergarten shows staff beating and shouting at children after apparently forgetting to turn off the CCTV cameras.
The video shows a woman repeatedly hitting and dragging children as they move around during their nap time. The children are pulled around and treated extremely brusquely.
During the video at one point, a female nursery worker is heard shouting "If you don't do as you're told you will get a punch in the head, just go to sleep or you will get hit so badly and then I will kick you outside in the cold."
The children were also filmed being given red wine in their juice to make them fall asleep, and coffee to wake them up when their parents arrive to take them home.
Parents were shocked and outraged by the videos and have launched legal action. But despite the allegations of abuse, the kindergarten remains open. It is not authorised by the government, so it will continue to operate until any relevant criminal case is complete.
The kindergarten, called Micul Reget, advertises on its website the importance of proper education and care, saying children are "delicate and fragile beings".
Corporal punishment has been prohibited in Romanian schools since 1948 and in the home since 2004, but according to one report from 2013 it remains prevalent.
Another report by UNICEF suggests many parents employ corporal punishment and "violence in schools, by both teachers and other students, is high by world standards".
A 2007 study carried out by Save the Children speaking to 1,110 people and additional interviews with 155 adults who work with children, found that 12 percent were aware of children being treated violently in the families of friends or neighbours.
Study on the Level of Awareness of Child Protection Legislation Among the General Population and Experts)