South Africa hosting Olympic Games one of Mandela's last wishes - claim
Comments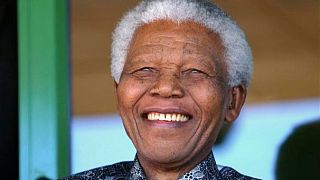 South Africa should host an Olympic Games to toast the achievements of Nelson Mandela, it's been claimed.
Sam Ramsamy, South Africa's International Olympic Committee representative, said doing so would fulfil one of the humanist's last wishes.
Ramsamy said Mandela – who died aged 95 on Thursday – asked him just eight months ago when South Africa was going to get an Olympics.
Ramsamy said: "Like everyone else we are grieved (sic) tremendously. But this is not the time to be mourning. This is a time to celebrate the achievements of Nelson Mandela, there are too many to record.
"He always stated that sport is a uniting factor, it is a universal language, it is a non-verbal language. He always said sports can transmit to very many people which no politician can do. And that we will always remember.
"Undoubtedly the World Cup held in South Africa in 2010 was something he always wanted because he felt he wanted a major event in South Africa. He was part of the team that went to Zurich to campaign for the 2010 World Cup.
"He also campaigned to get the Olympic Games. When I last spoke with him. About eight months ago, he said 'Sam, when are we going to get the Olympic Games'?
"I said 'We're trying our very best'. And hopefully in the future we can commemorate Nelson Mandela's activities, his passion for sport and his passion for the Olympics in trying to get the Games to South Africa in the very near future."
Cape Town failed bid in a bid to host the Olympics in 2004.
South Africa was awarded the 1995 Rugby World Cup – when President Mandela famously turned up in a Springbok jersey to watch South Africa beat New Zealand in the final.
Fifteen years later, the nation introduced the world to the sounds of the vuvuzela during the 2010 soccer World Cup.
The opening game of the soccer extravaganza turned out to be Mandela's last public appearance and IOC president Thomas Bach highlighted how sport played an important role in Mandela's life, especially during his 27-year incarceration.
"The Olympic Movement is mourning the loss of a great friend, of a hero of humanity. President Mandela was always very close to sports. He used sports to build his nation as one nation," Bach told Reuters.
"Therefore sports can be proud on one hand to have played such an important role in the life of this great man and the building of a nation. On the other hand, it also makes us very sad, we have lost this great personality.
"He was a sportsman himself, he always stressed how important it was to play sports during his day on Robben Island with his friends and other inmates of prison, how sports integrated them into a team, how sports gave them hope even hope for freedom.
"He was backing the candidature of Cape Town (in 2004), he was very much inspired by the Olympic spirit. On the other hand he inspired us a lot."