Fighting mafia plans to subvert democracy, the European Parliament has been working on protective frameworks. This comes as organised criminals are increasingly seeking to launder money by investing in otherwise legitimate ventures. One of these is the media. An Italian state prosecutor contributed to this News+ in an interview, the transcript of which you can read here, lower down.
A massacre in Duisburg, Germany, in August 2007 demonstrated not just how the 'Ndrangheta were ready to use violence; it also showed how the Italian mafia organisation from the southern Calabria region was setting up well outside Italy's borders. The gunning down outside Pizzeria Bruno in Duisburg of six Italians was an extension of clan rivalry being fought out in the Calabrian villages of San Luca, Pelle-Vottari and Nirta-Strangio.
German and Italian police teamed up to investigate. The murderers and accomplices were arrested in San Luca.
The 'Ndrangheta, also known as 'Onorata Società', had been considered rural junior players in comparison with the Sicilian mafia. But today they pose a global threat. From their place of origin in the Italian south, they colonised abroad through communities of Italian migrants.
The 'Ndrangheta operate now in Germany, Spain, the Netherlands, France, Belgium and Switzerland. They're also in Canada, the United States and Colombia – even Australia.
A massive anti-drug coordinated dragnet operation against the 'Ndrangheta in Italy, the US and Latin America in 2008 turned up 16 tonnes of cocaine, 57 million dollars in cash and resulted in 200 arrests. It showed the scale of the Calabrians' involvement in this trade.
The annual revenue of the 'Ndrangheta is officially estimated to be in the range of 44 billion euros – approaching two thirds of which comes from cocaine trafficking.
The 'Ndrangheta also invest in legal business dealings, which is also highly lucrative and is lower-risk, such as waste disposal. The ultra-secret organisation has enormous power to corrupt the inner workings of public sector activities, and to divert public funds.
It also buys property, as another of the primary ways to launder dirty money. There, the state can act against the mafia, by confiscating these physical assets.
We spoke to the chief deputy prosecutor in Reggio Calabria, Nicola Gratteri, who is under permanent police protection.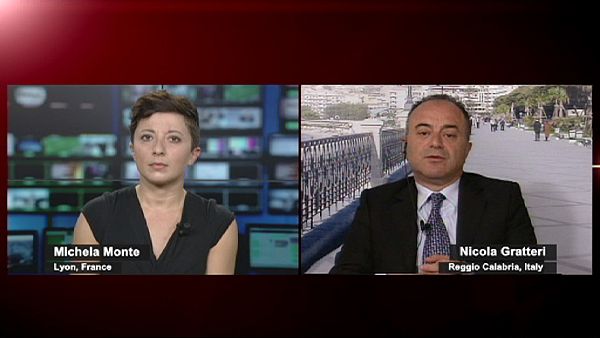 Michela Monte, euronews: "Why did you take up the struggle against the 'Ndrangheta?"
Nicola Gratteri, Reggio Calabria chief deputy prosecutor: "When I was a child, I used to hitchhike to school, and several times I saw bodies on the ground, and I witnessed scenes of violence in front of my school. I breathed the heavy stench of the 'Ndrangheta."
"How do you explain the 'Ndrangheta?"
Gratteri: "It's much more difficult to fight the mafia today because the mafia is now on the margins of our public administrations; the mafia is in the business world, in the economy. When my colleagues say "We are defeating the mafia, the mafia is gasping, it's in trouble", I say shut up, because the mafia is just getting a laugh out of it."
"The mafia control cocaine trafficking in Europe; how much economic power does it have?"
Gratteri: "You can buy 98 percent pure cocaine in Colombia or Bolivia for 1,000 euros per kilo. That can be diluted to produce almost four and a half kilos. That then is sold on the streets of Europe for 50 euros a gramme. So, there is no activity, legal or illegal that is more profitable. All this money is invested in wealthy areas of Rome, in Europe, in Germany, Belgium, Holland… and especially in property. When the 'Ndrangheta buys a hotel on a street somewhere in Europe, or a restaurant, a pizzeria… it will make sure that nothing happens on that street. For two reasons: so the police will not take an interest in that street and because activity would lower the property's value. So public opinion says: 'Well, there's nothing happening here, the city is quiet and we're fine', but it is not true."
"Why do you think money laundering is a threat to democracy?"
Gratteri: "What if these people buying real estate, as well as moving into services, also buy into newspapers or television – as they've already started to? It's obvious that the media affect people's way of thinking, culture, ideologies. That lets the mafia circulate without ordinary people being aware of it. For example in the field of construction speculation, information bombardment through a local television station or a local newspaper could be a means of manipulation by the mafia."
All views
Get a different perspective
Every story can be told in many ways: see the perspectives from Euronews journalists in our other language teams.