Doctors Without Borders says life is getting worse for Syrian refugees
Comments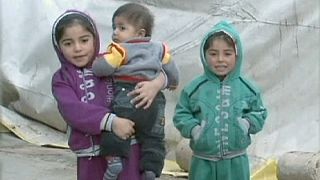 The second report in eight months on the refugees from the conflict in Syria compiled by the humanitarian NGO Doctors Without Borders presents findings gathered in Lebanon in December.
The fact finders were in Saida, in the south, in the Bekaa Valley in the east and in Tripoli in the north.
The conclusions were little changed from the first report, except that things are worse.
Hundreds of thousands of Syrians have fled their country, some 250,000 into Lebanon alone, almost that many again into Jordan, more than 170,000 to Turkey and more than 80,000 to Iraq.
Their numbers in Lebanon are now equal to around six percent of the Lebanese population. Most are in the Bekaa Valley. Among those having to fend for themselves is nomadic Samia Gamal's family. She has 15 children.
Samia said: "We rent this tent for 100 dollars a month. It was here when we came."
Two of Samia's daughters having paying work occasionally.
"We don't buy much food," Samia said, "just bread and vegetables. We don't buy expensive things like chicken or meat. Sometimes we have one meal a day, sometimes two, depending on what we have. Mainly it's soup and rice. A load of fire-wood costs 150 dollars. We need two loads a month."
Jordan and Turkey have built camps for the Syrian refugees. Lebanon still has not. So anyone who comes has to rent what they can find.
More than half the people interviewed by Doctors Without Borders said they could not pay for treatment for chronic illnesses and natal care.
An unregistered Syrian refugee must pay any medical bills himself. Registration by the UN Refugee Agency is said to take two to three months. While waiting, there is very little international assistance.