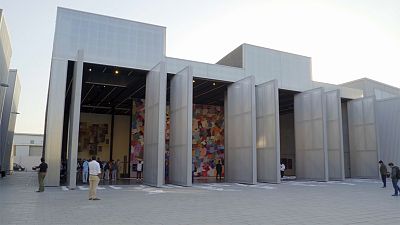 Copyright

euronews - Credit: Dubai Tourism
Once just an overlooked industrial estate hidden behind the high-rises of Dubai's Sheikh Zayed Road, Al Quoz is now the beating heart of the city's art scene. Home to Alserkal Avenue – actually a block of streets lined with some of the best art galleries in Dubai – Al Quoz is full of surprises.
There's more than world-class art hidden behind Al Quoz's vast landscape of warehouses; where there's art, there's life, after all – and life here is vibrant.
Just about every enterprise in Al Quoz comes with an exciting twist; for example, Al Quoz restaurant and speciality coffee bar Café Rider doubles as a custom motorbike store.
Mirzam, meanwhile, is an artisan chocolate factory that's also a café, located in the neighbourhood's central art hub, Alserkal Avenue. Alserkal Avenue cafes are defined by their fair-trade principles and creative concoctions that echo the area's artistic character. From golden turmeric lattes to immune-boosting vegan matcha bowls, menus are bursting with goodness.
Things to do in Alserkal Avenue and neighbouring complex, The Courtyard, include inspiring workshops; there are several to choose between. At Oo La Lab, a fragrance mixology studio in Alserkal Avenue, you can learn how to create your own signature cologne.
Or, just across the road, you can join an art class in Dubai's popular community art space thejamjar. Going strong for 15 years, thejamjar is a regular host of Alserkal Avenue events and art lessons, teaches budding artists of all ages several disciplines, from painting with oils to acrylic techniques.
Tilika D'Souza, an art instructor at thejamjar, says the wellbeing of the participants is also important to the foundation:
"We have a workshop called Intuitive Creativity that combines meditation and art; we use all kinds of different art materials and we do a little meditation to begin with, so everybody is really relaxed during and after the class."
For those who prefer to shop, tempting retail options include independent boutiques, such as Chi-Ka, a fashion atelier creating elegant hybrids of women's kimonos and abayas, the traditional gowns of Japan and the UAE.
Classic car enthusiasts are spoilt for choice at the remarkable museum-like showroom, Nostalgia Classic Cars. Vintage vehicles on display include some of Rolls Royce, Ferrari and Mercedes-Benz's finest creations, not least a 1960 Mercedes-Benz 190 SL Roadster. After making its first appearance at the New York International Motor Sports Show in 1954, this covetable car co-starred in the movie 'High Society', alongside Grace Kelly and her passenger Frank Sinatra.
And if you want to buy art in Dubai, you're very much in the right place. Explore the collections of Alserkal Avenue either on foot or online. From thought-provoking contemporary pieces at Leila Heller Gallery tackling topics such as plastic waste to the Dubai studio of world-famous artist-in-residence eL Seed, there's so much to see. With almost all the works in Al Quoz's many warehouses for sale, you're sure to find the perfect souvenir.