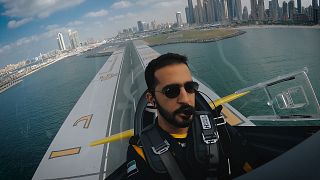 Copyright

euronews

-

Credit: Dubai
Husam Gamal is an Emirati air race and airshow pilot, collaborating with XDubai; the biggest adventure and extreme action sports hub in the UAE.
Husam joined the Flying Academy when he was just 15 years old and had his first solo flight after a year. "I was so scared. It is more of a mental game. I listened to the noise of the engines and what the aircraft wanted to tell me. I felt it in my body, my brain excepted it so much that I was like, 'I can go quite far with this,'" he told Euronews.
After graduating at the age of 17, as the youngest pilot in the UAE, Husam rapidly excelled in his profession and became a captain five years later. 
During the journey, he was introduced to aerobatics, which is the practice of flying manoeuvres that are not used in conventional passenger-carrying flights but performed for training, recreation, entertainment, and sport. 
"It was initially just for me to learn the skills of the upset recovery training," Husam said. "However, as I practiced and learnt more about aerobatics, I got hooked. It pushed me to develop more skills and to improve my physical fitness."
After a period of intensive training, Husam attended his first competition in aerobatics in California in 2015. 
"I scored last… You can be physically and mentally ready, but that doesn't qualify you to go up on the podium. You really need experience and that comes with you breaking your neck at least twenty times, and that is what I was actually aiming for," he admitted. 
He took part in more competitions, gained the experience he needed to build his confidence, and finally won first place in the Spanish National Championship in 2019. 
"It was an amazing feeling, then one week later, I got invited to a training camp by Red Bull, to become a qualified air racer which is any pilot's dream," he told Euronews.
Husam faced one of his toughest tests at the air race qualification camp. Compared to aerobatics, he had to operate a faster aircraft, fly lower, and had to fly through air gates. 
"Before I jumped onto the aircraft, my coach said, 'The plane fits between the pylons, just keep this in your mind.'" he recalled. 
Husam then took off, did a few rounds around the track, and attempted to enter the gate but just pulled out at the last second. 
"No way, it won't fit, I am going to hit the pylon." he thought. Subsequently, his coach suggested he go back home if he wasn't feeling ready. Husam turned down the offer and decided to take the gate even if it meant hitting the pylons. 
"When I passed that gate, I felt like I owned this world," he revealed.
At the end of the camp, Husam qualified to become an air race pilot but had to take a break due to Covid-19 outbreak restrictions halting the competitions. 
"Now, I am back to the sport again but this time with the support of XDubai. I am aiming for the world championship and I am going for the first (spot)."