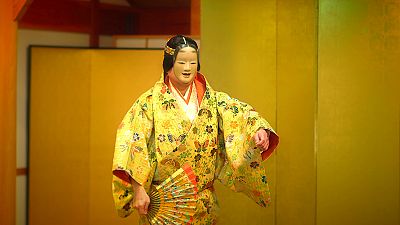 The destination for this episode of Postcards is the beautiful city of Kyoto, also one of Japan's most important centres of fashion.
Key facts about Japan:
It is an island nation in East Asia
The population is more than 127m
Land area is just under 378,000 km2
The country's currency is the Yen
Main religions are Shinto & Buddhism
Our focus is on a special type of woven textile known as Nishijin-ori.
Euronews' Seamus Kearney reported: "This Nishijin fabric is unique to Kyoto and the technique dates back to the 5th and 6th centuries."
It is also the material of choice for the kimonos used in an ancient dance known as Noh.
Speaking from a traditional workshop where Nishijin-ori is made, Seamus said: "And today that tradition is kept alive in workshops like this, where workers use traditional looms."
The colourful fabric with intricate patterns is used to make not only kimonos but also other items including neckties and sashes known as obi.
Haruo Murai, a Nishijin-ori craftsman, told Postcards: "Nishijin-ori is made with silk thread that's been dyed.
"It looks like the patterns have been embroidered, but in fact they've been weaved into the fabric."
And the quality is said to be so good that it can be worn for a lifetime without fading.
From the fastest mochi pounders to colourful kimonos, Japan in 360° https://t.co/S02PTaTOV6

— Seamus Kearney (@seamuskearney_) February 23, 2017