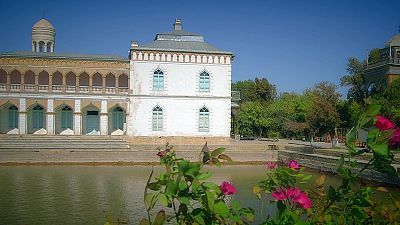 Our Postcard this week comes to you from just outside the ancient Uzbek city of Bukhara and a palace that has been turned into a museum.
Key facts about Uzbekistan:
It's in Central Asia, with neighbours including Kazakhstan, Turkmenistan, Kyrgyzstan & Tajikistan
With a population of more than 30 million, the ex-Soviet republic became independent in 1991
The total land area is 425,400 km2, with plains covering about four fifths of the territory
The average winter temperature is -6 degrees celsius and in summer it rises above 32
Almost 80 percent of the population is Uzbek and the main religion is Muslim (88 percent)
The Sitorai Mokhi-Khosa Palace was built by one of the city's rulers more than a hundred years ago, with a mix of western and eastern architectural styles.
Euronews' Seamus Kearney reported: "And if you go inside one of the main buildings you're greeted by colourful walls covered in mirrors … with intricate, decorative artwork by master craftsmen here in Bukhara, adding to the beauty of the site."
A lot of objects from the past are on display here, including treasures from China, Russia and Japan, with reminders of previous palaces that once stood on the site.
"The complex was built in the early 1900s by the last emir of Bukhara as his summer residence," explained Bukhara guide Khaydarova Dilbar.
"And the name means 'the most beautiful place between the moon and the stars'."
As well as exploring the museum, visitors can also enjoy the peaceful gardens, which include a large number of fruit trees.