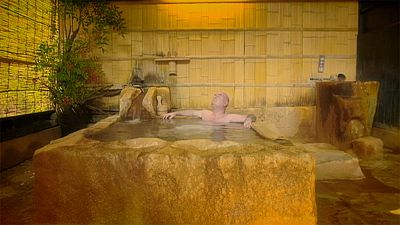 This week in Postcards from Japan we are in Kagoshima, where there is pleasure to be found in the geothermal activity.
Key facts about Japan:
It is an island nation in East Asia
The population is more than 127m
Land area is just under 378,000 km2
The country's currency is the Yen
Main religions are Shinto & Buddhism
We paid a visit to a hot springs resort, known here as an onsen, which is a popular way to unwind.
The Gajoen establishment is just one of many in the region.
Euronews' Seamus Kearney reported: "And to get into the mood you need to quickly leave behind your normal clothes and get into a kimono."
Absolutely everything is taken care of by the staff; all you have to do is relax and make the most of the natural surroundings.
From the Onsen bath, Seamus added: "And this is the key moment in the onsen, taking the time to soak in the piping hot thermal bath."
Etsuko Tajima, the landlady of the Gajoen resort, told Postcards: "The onsen contains elements such as magnesium, calcium and iron, and I really believe there's a diverse range of effects that treat the body."
And after enjoying the farm-like atmosphere, meals with fresh local produce are brought to your room.
Then, at the end of the day, staff prepare your futon to ensure a good night's sleep.