Euronews launches 'The Edge', a new video series dedicated to disruptive technology and innovation
1 October 2021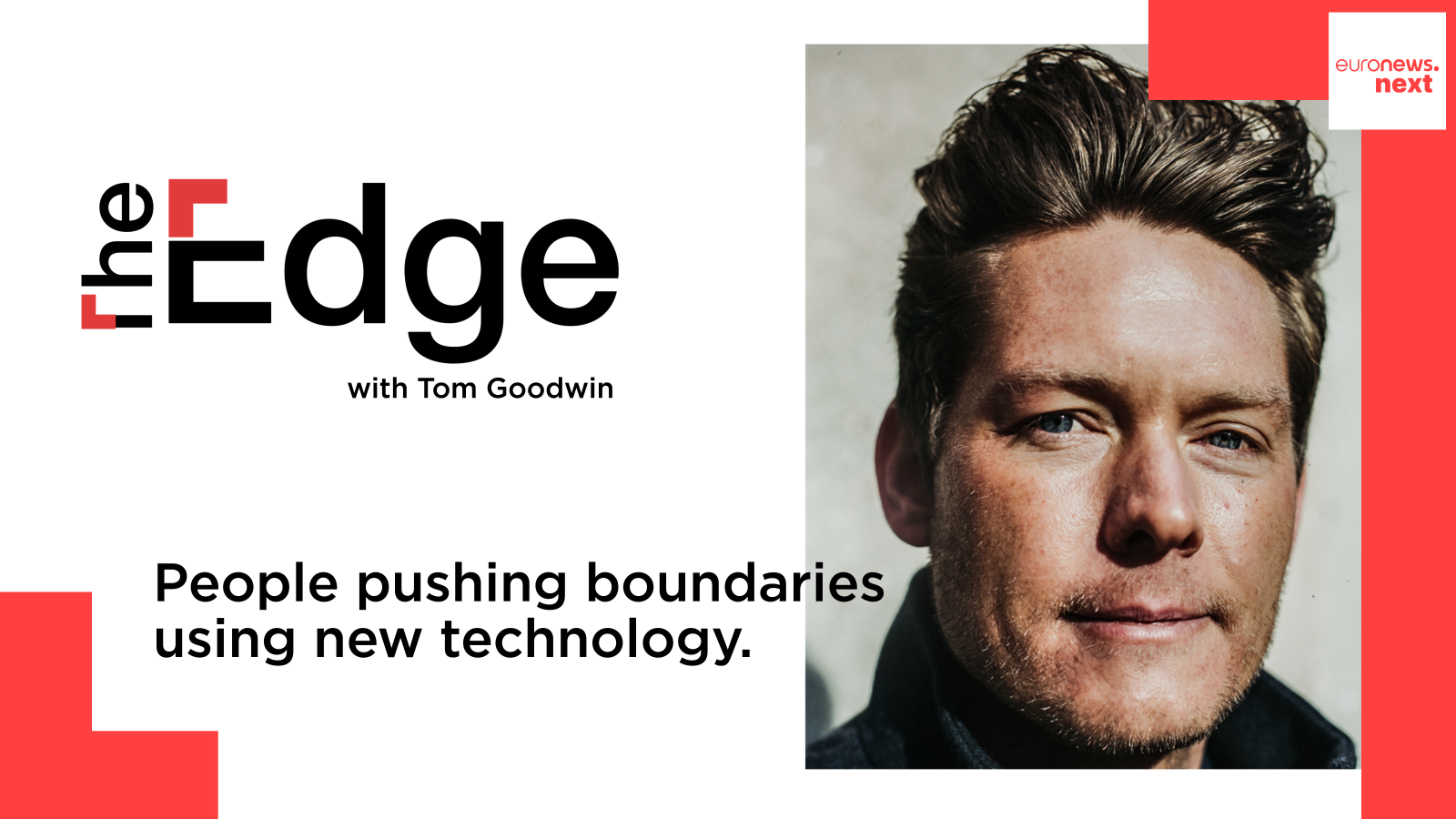 Lyon, France – 1st October 2021 – Euronews launches a new video series dedicated to technology and innovation, called 'The Edge – People pushing boundaries using new technology'. Presented by Tom Goodwin, a renowned expert in innovation and digital transformation, 'The Edge' looks at what happens when disruptive technologies collide with bold thinkers, allowing boundaries to be pushed and whole industries to be reimagined.
'The Edge' will reinforce Euronews' digital feature-led content offer on its new vertical, Euronews Next.
As a futurist and advocate of change, Tom was quick to see the power of technology and the need to harness it to propel businesses further. For the four episodes of 'The Edge', Tom travels the world in search of inspiring initiatives and individuals. Each episode dives into a theme, a place and a cohort of inspirational people who are taking bold leaps into what's next.
The first episode of 'The Edge' was filmed in Iceland, and looks at how Iceland's unique landscape and natural resources make it a hotbed of exciting eco-innovations. He visits a vertical farm that uses 100% renewable energy, an 'Energy to Food' platform which makes super-sustainable micro-algae and an exciting technology which turns CO2 into stone. Promising developments that could make the world a better place.
'The Edge' episodes are 10-15 minutes long and will be broadcast on the Euronews English YouTube channel and on www.euronews.com/next. Euronews will also publish dedicated content on social networks.
WATCH the first episode of "The Edge" here.
Launched in June 2021, Euronews Next is the company's new digital destination covering innovation and the new economy from a European perspective with a focus on the future of money, work, health, home and mobility.
Ali Ihsan Aydin, Editor-in-Chief, Digital Platforms at Euronews, explains:
"We are glad to have partnered with Tom Goodwin for the production of our The Edge series. Tom is a visionary and well-respected speaker on technology and innovation. The Edge will be a valuable addition to Euronews Next, our newly-launched vertical dedicated to business leaders, innovators and visionaries who want to find ideas, inspiration and guidance. The success that Euronews Next has encountered since its launch comforts us in our strategy of developing more specialised and in-depth content on issues of particular interest to our audiences, through the creation of dedicated verticals."
Carolyn Gibson, Chief Revenue Officer at Euronews, adds:
"Euronews Next is the perfect environment for brands seeking to associate with high-quality content at the intersection of business and technology. With Euronews Next we are targeting the new generation of European business leaders looking for ideas and inspiration to advance their business or careers –highly-educated entrepreneurs, thought leaders, and business innovators. Our original content series "The Edge" provides a deep dive into the latest trends through the perspective of those individuals driving change in the new economy, reinforcing Euronews' position as a leading media for these highly sought after audiences."
Euronews delivers impartial news to over 145 million people every month and has recently expanded its digital feature-led content which complements its rolling news, broadcast in 12 language editions.
About Tom Goodwin
A sought-after writer, keynote speaker and consultant, Tom Goodwin has built a 20-year career spanning advertising/creative, digital, and media agencies, and currently advises a range of Fortune 500 companies on business transformation for the post-digital age. An industry provocateur, he has been voted as the #1 Voice in Marketing on LinkedIn globally, with over 700,000 followers.
His role is to understand new technology, behaviors, and platforms, and to ideate and implement solutions for clients that take advantage of these new opportunities.
Tom is the author of Digital Darwinism: Survival of the Fittest in the Age of Business Disruption (Kogan Page, 2018), which helps companies understand how to digitally and culturally transform and drive innovation. The book is now in its sixth print run and has been translated into seven languages.
Tom is the Founder of "All We Have Is Now", an insurgent strategy-consulting firm designed to provoke action and innovation. As a columnist, Tom has contributed to the Guardian, TechCrunch, Forbes, Marketing Week, British GQ, Ad Age, Adweek, The Drum, MediaPost, Inc, Digiday and the World Economic Forum.
Euronews is a leading international news channel and one of the best known and most trusted news brands operating across Europe. Worldwide, Euronews is broadcast in 160 countries and distributed in almost 400 million homes – including 67% of homes in the European Union + UK. Every month, Euronews reaches over 140 million people, both on TV and digital platforms, according to the Global Web Index (2020).