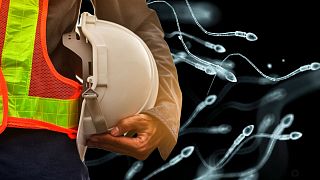 Men who wear hard hats may have considerably healthier sperm than their white-collar bosses, a new Harvard study suggests.
Workers who regularly lift or move heavy objects were found to have nearly 50 per cent higher sperm counts than desk-bound workers.
They also had higher levels of testosterone, the male sex hormone that regulates sex drive (or libido) as well as muscle mass and sperm production.
Sperm quantity, motility and testosterone levels are key factors in male fertility - and sperm counts worldwide are believed to have nearly halved over the past five decades, with scientists suspecting a cocktail of environmental, dietary and lifestyle factors is to blame. 
"We already know that exercise is associated with multiple health benefits in humans, including those observed on reproductive health, but few studies have looked at how occupational factors can contribute to these benefits," said the study's first author Lidia Mínguez-Alarcón, a reproductive epidemiologist at Brigham and Women's Hospital in Boston, the US.
"What these new findings suggest is that physical activity during work may also be associated with significant improvement in men's reproductive potential," she said in a statement.
Previous research on male fertility has focused on environmental, dietary or lifestyle factors, but "little attention has been paid to occupational factors," reads the study, published in Human Reproduction.
The researchers examined 950 semen samples from 377 male partners in couples seeking treatment at a fertility centre between 2005 and 2019.
The men - who had a median age of 36 and were mainly white - filled out a questionnaire on how often they lifted or moved heavy objects, their typical shift pattern and their level of physical exertion at work. Samples of their semen and blood were also analysed.
Among the participants, 12 per cent reported often lifting or moving heavy objects at work. Those men had a 46 per cent higher sperm concentration and 44 per cent greater total sperm count compared with men who reported never lifting or moving heavy objects at work.
The researchers said this was after adjusting for other possible factors including age, body mass index (BNI), education, race and smoking.
Men who reported more physical activity at work also had higher levels of the male sex hormone testosterone - but also of the female hormone estrogen.
"'Male' and 'female' hormones are found in both sexes, but in different amounts," explained Mínguez-Alarcón, who is also a senior research scientist at the Harvard TH Chan School of Public Health.
"In this case, we hypothesise that excess testosterone is being converted into estrogen, which is a known way for the body to keep normal levels of both hormones," she said.
Some limitations
The study authors noted that because the participants were men from couples seeking fertility treatment, the results might not be applicable to the general population.
It's also possible that men who were less healthy would not be actively working in physically demanding jobs, and would therefore have been excluded from the study.
However, previous research has shown that physically active men have healthier sperm than those with a sedentary lifestyle.
That's because exercise helps regulate hormone levels and create more favourable conditions for sperm production.
"Whatever your doctor tells you to do to help you care for your heart is going to help your fertility," Shanna Swan, a leading reproductive epidemiologist and professor at the Icahn School of Medicine at Mount Sinai, told Euronews Next in a recent interview.