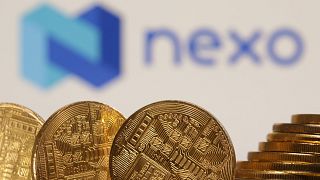 -
Copyright

DADO RUVIC/REUTERS
The world of cryptocurrency continues to be shaken by drama and investigations, as four people have been charged with money laundering, tax crimes and computer fraud in a criminal investigation embroiling the crypto lender Nexo.
Bulgarian prosecutors allege that Nexo is implicated in a large-scale international criminal scheme involving money laundering and violations of global financial sanctions against Russia.
According to local news agencies quoted by international media, Nexo's offices in the capital Sofia were raided on Thursday by a group of more than 300 prosecutors, investigators and foreign agents. Authorities said that searches were conducted in more than 15 sites across the city.
Bulgarian prosecutors allege that $94 billion (€86 billion) have gone through the Nexo platform in the past five years and that one person has financed terrorist activities through the platform.
"In the case yesterday, 17 sites - offices and residential homes - were searched with prior permission of the court," said Borislav Sarafov, head of the National Investigation Service, during a briefing on the case.
"More than 20 witnesses were questioned, some of them anonymous. Interrogations are also ongoing, in the investigators' office. Witnesses will enter a protected program because they fear for their lives.
"Four persons have been charged as defendants, they are accused of having participated in, and one of them led a criminal group for money laundering, tax crimes and computer fraud from the beginning of 2018 until now in the territory of Bulgaria, Switzerland, and the Cayman Islands, UK. The defendants have been ordered not to leave the country".
The crypto lender has repeatedly stated that it's compliant with anti-money laundering legislation and sanctions against Russia.
"Over the years, we have turned down a lot of business because Nexo never makes compromises with regard to our very stringent anti-money laundering and know-your-customer policy," the company wrote on Thursday on Twitter, reassuring customers.
"Crypto is actually terrible for illicit purposes - using Chainalysis, for example, we know the history of the asset while it is being deposited and have a good understanding of the address to which it is withdrawn. This is more difficult with fiat and requires other techniques," the company added in a follow-up tweet.
"Unfortunately, with the recent regulatory crackdown on crypto, some regulators have recently adopted the kick first, ask questions later approach. In corrupt countries, it is bordering with racketeering, but that too shall pass," Nexo continued, adding that the firm will continue cooperating with the relevant authorities and regulators.
Nexo to sue Bulgaria over raids
The Bulgarian News Agency reported on Friday that the crypto lender complained about the law enforcement's response to the ongoing investigation against the firm - calling it "shameful" - and was preparing to file a lawsuit against the government seeking damages.
In that report, the company appeared confident it would win the lawsuit, and was quoted as saying: "The compensations that Bulgaria will pay after the claims are filed and won by Nexo will be another record-breaking amount of hundreds of millions, but, unfortunately, they will be at the expense of the Bulgarian taxpayer".
Nexo was founded in 2018 by former member of Bulgaria's parliament Antoni Trenchev and Georgi Shulev, son of former deputy prime minister Lydia Shuleva.
Authorities around the world have been calling for tighter regulation of crypto firms amid the dramatic collapse of FTX, the second-biggest crypto exchange, last year.
"This case is unique, not in Bulgaria, but worldwide," said main prosecutor Ivan Geshev during an update on the Nexo case on Friday.
"It is an example of good inter-institutional cooperation, but also of good cooperation with our European and Euro-Atlantic partners."
"In view of the fact that it is quite complex, we rely on cooperation with all partner services and our Euro-Atlantic partners. This case and the subject of investigation illustrate the new problems facing the law enforcement community worldwide".