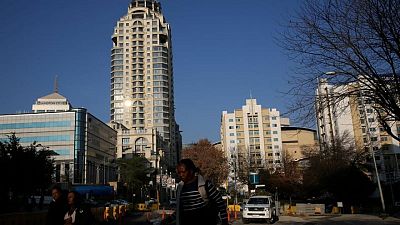 Copyright

Thomson Reuters 2021
-
JOHANNESBURG -South Africa's Investec said on Thursday it would distribute a 15% stake in asset manager NinetyOne to shareholders, as it also reported a more than two-fold rise in half-year profit.
The financial services group spun off its asset management business and listed it as NinetyOne in London in 2020, but abandoned a plan to sell a 10% stake in the company as the COVID-19 pandemic roiled stock markets. It holds a 25% stake in the company.
Chief executive Fani Titi said the 15% stake it had planned to retain from the outset was always surplus to its capital requirements and would be returned to shareholders at some point.
"Given we've now largely gone through COVID, economies are beginning to recover… we believe it's appropriate for us to return the 15%," he said, adding group earnings were back to pre-COVID levels and it was also generating a lot of capital.
Investec said it would announce the terms and process for the distribution later, while Titi added that the company still intended to review whether to turn its remaining 10% NinetyOne stake into cash at some point in the future.
Investec also reported a more than two-fold rise in half year profits, with the final result hitting around the middle of a recently improved forecast range, and announced an interim dividend of 11 pence per share.
For the six months to Sept. 30, its adjusted earnings per share (AEPS), which reflect profits made in the course of ordinary operations, stood at 26.3 pence, compared to 11.2 pence a year earlier.
Based on its performance, the group also updated its annual guidance. It now expects AEPS of between 48 pence and 53 pence for the full-year, compared to a May 2021 forecast of between 36 pence and 41 pence.
Its Johannesburg-listed shares were down 0.36% by 0811 GMT.