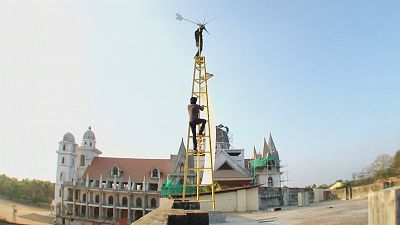 Brothers Arun and Anoop George from Kerala, south west India, are hoping to revolutionise the renewable energy market with a small wind turbine that costs around $750 USD (670 EUROS).
It's around the size of a ceiling fan and costs about the same price as a new Apple iphone.
But this wind turbine can generate three to five kilowatt hours of electricity daily – enough to power a home.
The brothers say its price makes it a game-changer as it is, theoretically, available to everyone.
Arun Geroge, CEO and Founder of Avant Garde Innovations, says its price makes it a game-changer as it, theoretically, available to everyone:
"We have made this turbine at a cost that is almost unheard of in the country so far.
"So we are targeting to make this available at around 50,000 rupees (approx. $750USD) , for the common man. And that's the kind of a revolution we are trying to bring into the industry. By making clean energy affordable to the common man."
India is one of the biggest players in the wind energy market and according to the Global Wind Energy Council, it ranks fourth in terms of installed wind power capacity, after China, the US, and Germany.
The country has 4,671 miles (7,517 km) of coastline and high wind density on its western coast, according to clean energy research firm, Energy Alternatives India.
Despite this, one quarter of all households – especially in rural areas – have no access to electricity. The country is also home to frequent power blackouts. (In 2012, 620 million people were left without power for hours.)
According to one wind energy expert, India is yet to harness the full potential of wind power.
He believes the country's government should increase wind energy subsidies to boost the sector.
Suresh Kumar Kumaresan, a Wind Engineering Expert, says: "In Indian context, I would say that we are developing, we are doing so many things, but it is not sufficient or we didn't tap the full potential.
"I think partly because the issue is the government is not very, I would say, supportive in terms of giving subsidies and things like that, which I think recently they started doing, but it's not in a full-blown state."
But not everyone is happy about wind energy production. One of the byproducts of Wind farms is noise pollution.
In the southern Indian state of Tamil Nadu, residents of Aralvaimozhi are growing sick of the noise caused by wind farms nearby.
Ramayya Kannayya Thevar, a village resident says: "Since it is closer to our village, continuous noise is a problem. It's a big problem to the people and they do not get proper sleep because of this sound.
"During daytime this is not much of a problem because people are away for work. During night, when other sounds are absent, this is the only sound and it is unbearable. Windmills may have some benefits, but they create problems also."
A secondary problem is the danger to wildlife and http://timesofindia.indiatimes.com/city/ahmedabad/Wind-farms-may-divert-migratory-birds-Study/articleshow/29919679.cms. Experts say wind turbines could also pose a risk to local bird populations
Ornithologist Raheem Chellappan Ravuthar, says: "It is pointed out that the rotating long blades of the windmill kill a lot of flying birds. Thousands of birds are thus killed annually in our country.
"But as in the western countries, no effort is made to assess the gravity of the problem. Quiet often flocks of birds like teal, flying one after another, and bats are the worse affected."
India added 3,300 megawatts in wind power capacity during the past year, bringing the total up to almost 27,000 megawatts. That's higher than the total wind energy produced in Latin America and the Caribbean.
The George brothers plan to attend the seventh Clean Energy Ministerial in San Francisco, US in June, where they've been invited to showcase their small wind turbine.