State of the Union: What were the top stories in the EU this week?
Comments
By Stefan Grobe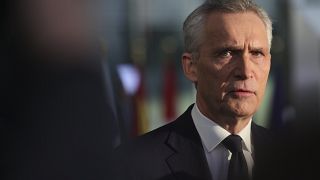 -
Copyright

Olivier Matthys/AP
"Vladimir Putin is preparing for more war, for new offensives and new attacks." NATO's secretary-general Jens Stoltenberg could not have been any clearer this week.
As Ukrainian forces are coming under increasing pressure in the east of the country, Stoltenberg warned members of the transatlantic alliance that they need to do more to help that country – and fast.
At a two-day NATO summit of its defence ministers in Brussels this week, Stoltenberg turned the attention to firepower and logistics.
Right now, Ukraine is firing up to 7,000 artillery shells a day, about a third of the number Russia is using and therefore, ramping up ammunition production is crucial.
"The current rate of Ukraine's ammunition expenditure is many times higher than our current rate of production," the alliance chief said on Tuesday. 
"This puts our defence industries under strain. For example, the waiting time for large calibre ammunition has increased from 12 to 28 months."
Fresh sanctions
A tenth package of sanctions against Russia was proposed by European Commission President Ursula von der Leyen on Wednesday.
It aims to ban exports of critical industrial goods worth €11 billion, blacklist propagandists and, for the first time ever, target entities linked to Iran's Revolutionary Guard Corps for aiding the Kremlin to wage war on Ukraine.
"Putin is not only waging a brutal war on the battlefield but he is also viciously targeting civilians," von der Leyen said while announcing the proposal in Strasbourg.
"The aggressor has to pay."
It comes as NATO warns that a major new Russian offensive is already underway in eastern Ukraine, with the city of Bakhmut enduring relentless artillery fire.
The Commission's proposed exports ban will cover electronics, specialised vehicles, spare parts for trucks and jet engines, as well as construction tools, such as antennas and cranes, that might be redirected to the war, von der Leyen explained.
The EU believes Russia will not be able to obtain these essential Western-made products from other suppliers like China and the army will eventually suffer from crippling shortages.
New restrictions will be placed on a total of 47 new electronic components, as well as rare earth materials and thermal cameras, that can be employed to build Russian weapons.
EU economy to grow in 2023
In more positive news, Brussels released its latest forecast this week that the EU will likely be spared a much-dreaded recession with economic performance better than expected at 0.8% in 2023 – up from 0.3% in the previous forecast.
But the uncertainty is still very high – largely because of the war in Ukraine, as the European Commissioner for Economy, Paolo Gentiloni, told Euronews.
"The risks are connected to the Russian invasion, the war, the consequences on energy. So, this is the big risk that we have to face."
If the economy turns bad in western Europe, it will probably be worse in the eastern regions of the continent, which is where the European Bank for Reconstruction and Development (EBRD) operates.
Its forecast is also pretty much in line with the Commission's projections.
"Our forecast reflects enormous uncertainty," Beata Javorcik, chief economist at the EBRD told Euronews.
"We don't know how the war will develop. We don't know how successful emerging countries will be in fighting inflation and we don't know how well the manufacturing sector on which the region depends will adjust or will continue to adjust to high energy prices. 
"So, there is a possibility of a positive, as well as a negative surprise."
Corruption scandal continues
Things were less rosy this week for Eva Kaili, the Greek MEP at the centre of the corruption scandal engulfing the European Parliament. On Thursday she was ordered by a Brussels court to remain in prison for at least two more months, despite her lawyer's impassioned pleas for a release under electronic surveillance.
The embattled lawmaker has been in pre-trial detention since 9 December, when she was arrested by Belgian police after being reportedly caught in the act.
Her parliamentary immunity was lifted on the spot and she was later charged with participation in a criminal organisation, corruption and money laundering.
Over €150,000 in cash was found in her Brussels residence.
The decision to extend Kaili's detention was taken by a Belgian judge after a hearing in Brussels on Thursday morning, during which her lawyers denounced her continued separation from her 23-month-old daughter and asked for her release with an electronic bracelet.
Her defence team continues to insist on her innocence and plans to appeal the decision.
Kaili's domestic partner and father to her daughter, Francesco Giorgi, also remains in prison, accused of the exact same crimes.
Marc Tarabella, another of the implicated MEPs, was arrested last week and ordered to remain in prison for at least another month.