Brussels, my love? What is the EU Green Industrial Plan and when will platform works get any rights?
Comments
By Méabh Mc Mahon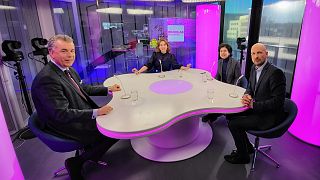 The Euronews Brussels bureau brings you its latest episode of a new talk show that aims to break down European news and politics to make it more accessible to viewers. 
This week's episode features the German MEP, Christian Ehler from the European Peoples Party, the Belgian MEP Marc Botenga from The Left and the deputy director-general of Business Europe, Luisa Santos. 
The big story in Brussels this week was the visit of Ukrainian President Volodymyr Zelenskyy who received a hero's welcome in the European Parliament where he thanked Europe for their support over the past 12 months. 
During a press conference at the EU Council later, he called on Europe for more weapons, including long-range missiles, and reminded everyone that Ukraine wants a fast accession into the EU.
"I think it has a sad moment because it shows how important it is to be present in an attention democracy.
"I mean, they rightly have to fear that after four, six weeks, we are simply forgetting that people are dying. There is occupied territory, the Russians behave like the Nazis had been doing that on the same territory in the Second World War," Ehler told the panel.
For Botenga, is it important to look beyond the images, symbolic speeches and emotional moments.
"The question is how to get out of this war," he said.
The panel also discussed the topic of platform workers and the fact that talks will soon start among EU institutions on a bill that would grant them more rights. The European Parliament recently voted on a resolution demanding equal working conditions for platform workers.
"I think the vote in plenary in favour of the rights of platform workers last week was really the accomplishment of a series of mobilisations because it started to put pressure on the European Commission to actually come with a proposal to the workers' rights in this new platform economy," Botenga said on the topic.
According to him, there are about 28 million platform workers across the EU.
But his German colleague warned that the issue may be more complex and that the EU might not be best-placed to regulate on it. 
"This is a Member States issue. It's the 18 or 19 different labour laws in Europe, quite incomparable. So the question is, are we in charge? And is that just a pretension or is it something we substantially can contribute?" Ehler questioned. 
Watch the full episode of "Brussels, my love?" in the video player above.