Three injured in knife attack at Brussels metro station near European Commission
Comments
By Euronews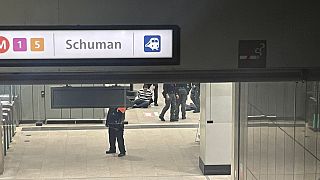 -
Copyright

Jack Parrock.
One person is in critical condition and two more were injured during a knife attack inside a metro station in Brussels, located right below the headquarters of the European Commission, the local Prosecutor's Office confirmed to Euronews.
The suspect, a 30-year-old man, was arrested by Belgian police at the scene. 
There is no indication of terrorism, the Brussels Public Prosecutor's Office added.
Brussels mayor Philippe Close praised the emergency services' response on Twitter for the "rapid arrest of the perpetrator."
A call was made to firefighters at 17:48 CET requesting two ambulances, a spokesperson told Euronews.
Police cars and ambulances surrounded the area and traffic was cut while the Schuman metro station was closed to the public, STIB-MIVB, the city's public transport company, confirmed.
A witness told Euronews the assault unfolded inside a metro car when the attacker stabbed a woman with a knife and asked passengers to exit. 
"I got into the metro carriage," Salaheddine told Euronews, and "the doors closed and then one moment I saw a crowd of people coming out shouting."
"What happened was that it was a man with a knife. He stabbed, as I understand it, a woman and then he wanted to attack us. What he wanted, mainly, was for us to get out of the carriage and for him to be alone while waiting for the police."
"But despite everything, as you know, in this station there are many strains, etc., so people, passengers, get out and therefore find themselves in front of this gentleman and so he becomes a little violent," he added. 
Another witness, Christine, told Euronews she was in the metro when she heard "get out, get, run away".
"So I went without looking. There were people running. I took my child and did too," she said. "Afterwards we saw injured people, people who had fallen."
Charles Michel, the president of the European Council, whose headquarters are also by the Schuman metro station, reacted to the attack on Twitter, writing: "Emotion in the European quarter."
"Warm thoughts for the victims. Thanks to the security forces," he added.