The EU says Google will commit to complying with bloc's consumer rules
Comments
By Olivia Bizot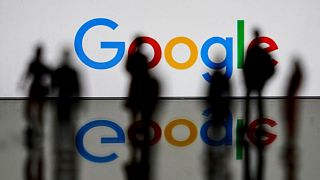 -
Copyright

The US multinational technology and Internet-related services company Google logo in Brussels.
Google has agreed to give consumers clearer and more accurate information to comply with EU rules, the European Commission said in a statement on Thursday.
The tech giant, owned by Alphabet, will introduce changes in Google store, Google play store, Google hotels and Google flights to ensure compliance with EU consumer rules.
"The commitments made by Google are a step in the right direction. EU consumers are entitled to clear, complete information so that they can make informed decisions," EU Commissioner for Justice, Didier Reynders said in a statement.
"We call on Google to comply fully with the Geo-blocking Regulation, ensuring that consumers can enjoy the same rights and access the same content, wherever they are in the EU", he added.
Geo-blocking occurs when traders who are active in the EU internal market do not give European consumers the opportunity to purchase goods or services across borders.
In 2018, the EU passed a regulation to address unjustified Geo-blocking and other forms of discrimination based on customers' citizenship, place of residence or location within the internal market.
The Consumer Protection Cooperation Network, which consists of authorities responsible for the enforcement of EU consumer protection laws, will actively monitor the implementation of Google's commitments. When there are additional concerns, national authorities will also monitor and enforce compliance.
In the past decade, the EU has investigated numerous antitrust complaints against Google alleging abuses of its dominant position in breach of the EU's competition laws. The world's most popular search engine was found guilty of antitrust breaches in three cases and has been charged over €8 billion in fines.
In 2018, Google suffered one of its biggest setbacks when a European court fined the tech giant over €4 billion for using Android to cement its dominance in general internet search.
However, Google said it acted like countless other businesses and criticised the EU decision as unaligned with the economic reality of mobile software platforms.