New Frontex chief vows to end illegal pushbacks of migrants at border
Comments
By Olivia Bizot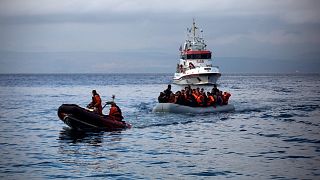 Copyright

AP Photo/Santi Palacios

-
The new head of the EU's border agency vowed on Thursday to end the practice of illegal pushbacks and ensure respect of fundamental rights as Frontex is being called upon to boost the number of returns. 
Hans Leijtens told reporters during a press conference in Brussels with EU Home Affairs Commissioner, Ylva Johansson, that he will adhere to three "guiding principles" during his tenure: accountability, respect for fundamental rights and transparency.
"Pushbacks, and of course I'm responsible for Frontex operations by Frontex officers, are not legal so they should be, well, they are forbidden. So I'm responsible for the fact that my people don't participate in anything called a pushback. I think that is absolutely clear. That's the legal framework I work in," he said.
Leijtens will take the reins of the agency on 1 Match and replace Aija Klanaja, who has served as the interim director of Frontex since April 2022. Last month, the EU's anti-fraud watchdog OLAF declared her a "person of concern" in an ongoing investigation into the organisation.
Klanaja's predecessor, Fabrice Leggeri, resigned after initial findings of an OLAF investigation revealed that the EU agency's guards covered up the illegal pushbacks of migrants at the border on a massive scale in a violation of human rights between 2020 and 2021.
The OLAF review found that at least six pushbacks involved Greek coastguard ships that had been co-financed by Frontex.
The organisation has also been accused of gathering intelligence that was used to push back migrants in Libya where they face violence and torture in detention camps.
In a press release published in October 2022, the EU border guards agency responded that "these were practices of the past".
"I think that we can improve our accountability and transparency. Frontex has a history of taking on a defensive attitude", Hans Leijtens admitted during the press conference on Thursday.
"We are going to restore trust by being very transparent about what we are doing and how we are doing it. We are going to do our jobs in accordance with the law and in accordance with what member states want. There should be absolutely nothing to hide", he said.
EU vows to "step up returns of irregular migrants"
The agency is meanwhile expected to take a greater role to boost the number of returns of irregular migrants, Johansson said.
Every year, around 500,000 foreign nationals are ordered to leave the EU because they have entered or they are staying irregularly, according to the European Commission. However, only around 30% of them return back to their home country or to the country from which they travelled to the EU.
The low numbers reflect a variety of difficulties, including the refusal of countries to accept responsibility for people whose identity documents may have been lost, destroyed or stolen.
"The problem is that member states only make readmission requests for approximately 10 to 20 percent of return decisions", Johansson said.
"Frontex is sending empty planes to countries of origin that are open to taking back their citizens. Recently, a plane was sent back to Bangladesh with only eight passengers on board", she added.
Frontex is responsible for the coordination of return operations, but the decision about who should be returned is always taken by the judicial or administrative authorities of the member states.
"Now Frontex is well-equipped to actually support member states. We have a dedicated deputy and our executive director on this topic," Johansson said, adding that Frontex "can help member states in all aspects of the return operations to countries of origin."
"We also now have a return co-ordinator in the Commission", she said. "And I will next week present an operational strategy on returns."
Johansson insisted that the EU's return policy can only be effective if countries cooperate and work together.
"The Team Europe approach is vital when it comes to returns. It's important to not leave member states alone but also to ask member states to step up when we have the political momentum with a third country", the EU's home affairs commissioner insisted.
In September 2022, experts from Frontex, EU countries and the European Commission created a network to coordinate the efforts made by all member states to ensure effective returns at EU level.