Drone manufacturer aims for Paris 2024 Olympics lift off, as air taxis become reality
Comments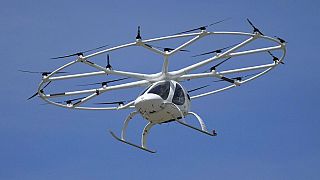 -
Copyright

Michel Euler/Copyright 2021 The AP. All rights reserved
Air taxis could become a reality by 2024, with one drone manufacturer aiming to roll out its unmanned aerial vehicle (UAV) by the start of the Paris Olympics.
Producer Volocopter wants to have its product - known as the Velocity - on the market by the time the multi-sport event begins in July next year.
According to the German company, it is four times less noisy than a conventional helicopter and, during the Olympics, will travel distances of around 20 kilometres.
But with such a huge technological leap likely to happen soon, the question of safety is at the forefront of many minds.
For Patrick Ky, Executive Director of the European Union Aviation Safety Agency (EASA), these next-generation drones are fully equipped to deal with any safety issues.
"My job is to make sure that the only vehicles which can fly are safe. So if you see something flying, then it's safe because we would have certified it, in particular for the Summer Olympic Games of 2024," Ky told Euronews. 
"We will certify the machine, which will provide taxi services between Charles de Gaulle [airport] and the centre of Paris. And if it is certified, it means that it's safe. And so when we say we certified, it means that we check it's at the same level as a commercial aircraft, actually. So, yes, if it flies in 2024, it is because it's safe. Otherwise, it will not fly."
The EASA head also says that any concerns about noise pollution will be answered.
"We are currently doing some work on what would be an acceptable level of noise for citizens compared with, typically, a bus or a truck or something like this. And from this level of acceptable noise, we will draw conclusions on the number of drones which can fly so that we do not want, you know, citizens or neighbours to be exposed to too much noise," Ky said.
A majority of new drones in the pipeline are fully electric, meaning zero emissions. This green element fits perfectly into the European Commission's Drone Strategy 2.0, which aims to integrate air taxis into the EU's "smart, green and digital" cities initiative.
The main objective of this strategy is to further develop Europe's drone market and large-scale commercial operations for use in other purposes.
This includes the transportation of medical products, which according to Andreas Boschen, Executive Director of the SESAR Joint Undertaking, is saving lives.
"One of our projects, SAFIR-Med, is already showing how important it is to deliver medical equipment, blood samples, organs, whatever, from one hospital to a laboratory or to another hospital. It is safer, it is quicker and it's more sustainable," Boschen told Euronews.
"Drones are saving lives everywhere in Europe, but also on a global level bringing in vaccines, bringing urgent medical equipment in a safe and efficient manner to people in need."
One Europe-wide survey by AiRMOUR shows that acceptance of medical deliveries by drones is well over 50%, but not quite there yet for taxi and personal services.
Another EU-commissioned study estimates that the drone sector could create up to 145,000 new jobs across the whole continent, with a possible worth of €14.5 billion by 2030.
The next question is about affordability. For most people, the price of taking an air taxi in 2024 is most likely to be steep, but Brussels and manufacturers hope to change this in the near future by scaling up production and demand for next-generation drone products.