Firms must store more to avoid shocks to global supply chain, says MEP
Comments
By Euronews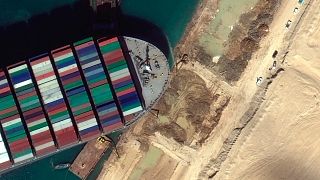 The pandemic and the Suez Canal blockage have demonstrated that businesses must store more goods if they are to mitigate any risk caused by shocks to the global supply chain, according to one MEP.
Samira Rafaela told Euronews that increasing stocks so that companies will be less impacted by any future disruptions to the system should be considered.
"You can see that we have such a strong dependence now on our global supply chains and that means that we need to overthink what we are doing now because... we depend so much on the just-in-time manufacturing and you see what that can cost if you don't store your goods, for example, elsewhere in the region or close to home. So it means that we need to think about other opportunities like producing locally," the Dutch MEP said.
Ian Goldin, professor of globalisation and development at the University of Oxford, told Euronews that the length of global supply chains also increases everyone's vulnerability.
"The biggest problem is not only the long supply chains, which can make any one break in the chain have an amplification effect that ripples through the whole chain, leading to cascading shocks," Goldin said.
"It's also management practice and austerity, so just-in-time supplies, not having stocks in factories, in shops, in hospitals, is leading to much more vulnerability, much less resilience."
But having long supply chains doesn't just impact production, it could also affect the EU's goal of being climate neutral by 2050.
According to Saskia Bricmont, a green MEP from Belgium, the key to addressing this issue is to ensure that the bloc's deals with trading partners include environmental commitments.
"I don't mean stopping international trade, but making it more coherent and reducing its global impact... so our trade agreements should be very clear on the commitments economic partners need to take at the social level and respect the rights of workers, but also at the environmental level and trying to have a level playing field between the EU and our economic partners in order to have the same norms," Bricmont told Euronews.