Brussels-Beijing deal could threaten cooperation with US on China
Comments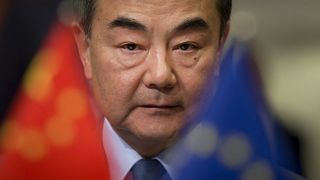 -
Copyright

Virginia Mayo/AP
Relations between the EU and China ended on somewhat of a high last year.
After nearly seven years of negotiations, a deal that would make it easier for companies to operate in each other's territory was reached at a political level.
But the EU-China Comprehensive Agreement on Investment, as it is officially known, has not been to everyone's liking.
The incoming Biden administration expressed its dislike of the pact earlier this month, after signalling that it wants a coordinated strategy against an increasingly aggressive China.
There was an expectation in Washington that with Trump in the rearview mirror, Brussels might harmonise policy towards the rising superpower.
This is likely still the case, but the deal has put a spanner in the works.
A large number of MEPs have also expressed concerns that the human rights situation in China could stand in the way of it being signed off at an EU level, where the European Parliament needs to ratify it.
Reinhard Bütikofer, a German Green MEP and chair of the parliament's China delegation told Euronews that the deal has not been useful for transatlantic cooperation going forward.
"The EU-China investment deal certainly was not very helpful when you look at it from the angle of transatlantic cooperation," Bütikofer explained.
"Because, on one hand, the incoming Biden team signalled very clearly that they hoped for early consultations and then Europeans showed them the cold shoulder."
But he added: "On the other hand, this will not derail the efforts either. I guess we're both destined to cooperate vis-à-vis China. I expect President Biden to be much less of a panda hugger than some people in Beijing might have hoped, similar to the fact that Donald Trump was not as much of a dragon slayer as he used to boast of."
According to Jonas Parello-Plesner, executive director at the Alliance of Democracies Foundation, the EU and US would be better off taking a collective approach towards China, given that it doesn't have a great track record for sticking to its agreements.
"The bigger question is, can you trust China at the moment? We see them bullying Hong Kong even though there was an agreement with the UK to leave the Hong Kong system intact until 2047. We see China bullying Australia even though they do have a trade deal, also based on a values fight. My hope would then be that now with the Biden administration coming in that we look much more to coordinate and in the future try to do such deals from a position of strength together, the US and Europe together," Parello-Plesner told Euronews.
With the EU and China now working on finalising the text of their deal, there is still some time left to go before it is actually sent for approval to the European Council and Parliament.
But the opposition in both Brussels and Washington could eventually derail the landmark agreement, demonstrating the fine balancing act of dealing with an authoritarian superpower that is simultaneously an economic rival, but also a profitable market.