Hungary 'won't accept ECJ ruling' describing migrant transit zones as detention centres
Comments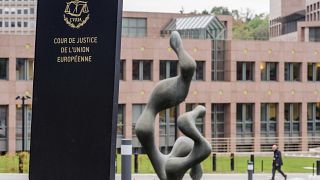 Copyright

Geert Vanden Wijngaert/Copyright 2017 The Associated Press. All rights reserved.

-
Hungary says it "will not accept" a ruling by the European Court of Justice (ECJ) that said keeping migrants and asylum seekers in a transit zone on its border amounts to detention.
The ECJ's ruling, delivered last week, states that the placing of "asylum seekers or third-country nationals who are the subject of a return decision in the Röszke transit zone at the Serbian-Hungarian border must be classified as 'detention'".
It added that if those detained were held with no valid reason, following a judicial review, the court hearing the case must release them immediately.
It relates to the case of four migrants from Afghanistan and Iran who had their asylum applications rejected by Hungarian authorities who demanded they return to Serbia. But Serbia "refused to readmit the persons concerned into its territory, on the ground that the conditions set out in the Agreement on readmission concluded with the EU4 were not met," the ECJ noted. 
György Bakondi, chief security officer for Prime Minister Viktor Orban, told Hungarian television on Tuesday that "the government will not accept the ruling of the European Union's Luxembourg-based court on transit zones and will investigate whether their operation is in conflict with the Hungarian constitution".
Bakondi described the transit zones criticised by the ECJ and human rights groups as a "well-functioning, proven border control element" and that dismantling them would "pose a threat not only to internal security but also to public health because it is not known how many of the 130,000 people on the Balkan route have been infected with the coronavirus".
The judgement came at a critical time for the ECJ. Last week, Germany's Constitutional Court ruled that the ECJ had acted outside its mandate in allowing the European Central Bank's COVID-19 quantitative easing measures. The ruling from Germany threw up a legal conundrum, with experts questioning whether the supremacy of ECJ rulings was at risk.