'Ryanair has no respect at all' - Brussels cabin crew join strike
Comments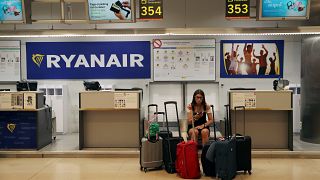 Low-cost carrier Ryanair's hit severe turbulence, suffering its worst week of stoppages in its three-decade history.
Cabin crew in Belgium, along with colleagues in Spain, Portugal and Italy are staging a two-day strike - demanding local contracts and better conditions.
Pilots walked out on Tuesday.
At Brussels' Zaventem airport, striker Sarkis Simonjan told Euronews: "We have parents here within the team, they have children, but they don't have security. The salary that they are promising has nothing to do with the reality. I never earned more than 1,200 euros.
"Unfortunately we have colleagues that don't even have the basic salary, they are paid on flight hours which means at the end of the month they just earn 480 euros for example, or maximum 700 euros."
Ryanair ran into trouble last year, averting widespread strikes before Christmas - by recognising unions for the first time in its three-decade history. But it's failed to seal solutions with many of them.
Didier Lebbe, from the CNE trade union, commented in Brussels: "They must have respect for the workers, for the authorities, for the passengers, for everybody. Ryanair have no respect at all. Today is not enough. If Ryanair doesn't change we will make strike again til they will change their attitude."
Ryanair's apologised to passengers over the strikes - and says it offers staff some of the best conditions in the low-cost airline industry. But this, as it reveals potential job losses.
It's clear staff have lost trust.
Lebbe added: "Ryanair never say the truth. Never. To Nobody. They are liars."
The cabin crew walkout - on Wednesday and Thursday - is expected to ground hundreds of flights. Spelling misery for holidaymakers hoping to jet off on their summer break.