Spanish rapper takes refuge in Belgium
Comments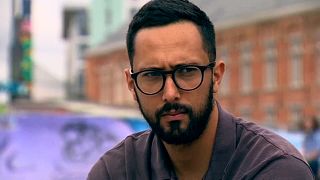 The rapper Josep Miquel Arenas, better known as Valtònyc, has taken refuge in Belgium.
In Spain, he's been sentenced to three and a half years in prison for threats, glorification of terrorism and insults to the crown.
Josep doesn't regret his songs.
"We suffer from political cuts, we also suffer from political corruption and impunity," he told Euronews. "And I think they should be thankful that we only do songs because they deserve much more."
The Belgian justice system's released him unconditionally, waiting to take a decision on an order issued by Spain and in which, as he showed in a tweet, he is accused of terrorism.
On the streets of Brussels, some recognise him, hoping he'll be able to return home.
His case is not unique, other musicians and tweeters have been convicted in Spain over recent years. It's something Valtònyc identifies with repression.
He said: "People are no longer voting, people do not believe in justice any more, people do not want a monarchy, and faced with this crisis of legitimacy, they can only respond with repression or violence."
Amnesty International's issued a report about its concerns over freedom of expression in Spain. In his songs, Valtònyc insults the king, and praises organisations such as ETA and GRAPO.
In his last song message, he apologises to animals for having compared them to politicians and those in power.