Belgium revives abortion debate
Comments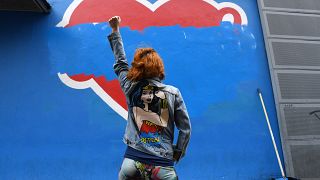 Copyright

REUTERS/Clodagh Kilcoyne

-
Having an abortion and ending up in court. It is an unlikely, but possible scenario for Belgian women like Chloè Brookfield who, after having her first baby, decided to have an abortion, for financial reasons.
In Belgium abortion is allowed within 12 weeks of conception and only under strict criteria.
Nevertheless, the inclusion of abortion in the criminal code makes it even harder for women to choose this option.
"I think it's still a taboo, it's still considered as something negative in the end. Sometimes, though, things may turn out positively. In my case, I think it would have been really hard for me to take care of two little babies. I wouldn't have been able to do that."
Surprisingly 70% of Belgians are unaware that abortion is a crime.
The Belgian federal parliament has started debating the removal of abortion from the penal code, in order to avoid stigmatizing women.
"This is not an act that must be assessed on the criminal side, it is rather a health act, the preservation of the health of women", said Olivier Maingain, a member of Parliament.
"By removing these provisions from the penal code, it would become an act of trust between women and medicine, because it would be considered as something that must be evaluated according to the criteria of medical deontology."
Abortion has been liberalised across Europe in recent years. Ireland will vote later this month on changing the republic's constitution, which prohibits abortion in almost all cases.
But some NGOs also say that religious groups are working against it.
"There is a real organized willingness to challenge this abortion right, especially among conservative Christian groups", said Hervé Parmentier from the European Humanist Federation.
"We feel that they express almost cartoon-like views today much more than in the past."