The EU opens the door to the Balkans
Comments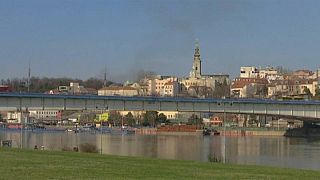 The European Commission has set out a strategy to bring six nations in the Western Balkans into the Brussels fold if they meet required standards of reform.
After years of attempting to counter growing Russian and Chinese influence in the region, a dozen EU member states now want to bring the potential joiners into policy meetings in Brussels.
It is being seen as an attempt to bolster the EU's image in the region and give it a post-Brexit boost.
The Balkan Strategy
The six Western Balkan nations concerned are: 
Albania
Bosnia
Kosovo
Macedonia
Montenegro
Serbia
The 12 EU member states are:
Austria
Czech Republic
Estonia
Hungary
Ireland
Italy
Lithuania
Latvia
Malta
Poland
Slovenia
Slovakia 
The Commission has set 2025 as the target date for the first new entrants to the bloc. Serbia and Montenegro could join as early as then. This phase of enlargement will eventually take the total number of EU members to 33. The UK is set to leave in March 2019.
The Balkan strategy drawn up in Brussels aims to show the region that membership is certain if countries meet EU demands including establishing independent courts, a free press and breaking up crime rings that have badly weakened governments.
Albania and Montenegro are already members of the U.S-led NATO alliance and Macedonia is likely to be offered NATO membership, often seen as a springboard to EU membership, if it can overcome a dispute over its name with Greece.
A 12-point plan - including the end of roaming?
The Balkan strategy was handed in by the EU member states concerned to the Commission in late January.
It includes plans allowing Balkan government ministers to participate in top EU meetings in policy areas including environment, health, transport and foreign policy.
This goes beyond the ad-hoc meetings currently offered to the closest non-member partners by Brussels.
Ending mobile telephone roaming charges for the 18-million strong Balkan population should also be considered, it says.
"These are cost-free measures that would have a tremendous political impact and would be instrumental in improving the EU's image in the region," the proposal adds.
EU officials are also urged to visit the region more frequently.
The background
The six countries have long been considered future members.
But many are wondering if they will ever join. There are concerns about the costs associated with another wave of eastern enlargement, coupled with consternation about the slow progress of the region's political, judicial and economic reforms.
Latest research suggests only a slim majority of Serbs would vote for EU membership in a referendum. It is down from 73% in 2009, according to the poll in January by Serbia's ministry of European integration.
Reforming the region
This throws up formidable obstacles. Serbia, for example, does not recognise the independence of Kosovo, its former province.
Some EU states have also refused recognition, most notably Spain which is trying to contain its own separatist movement in Catalonia.
Germany, the biggest provider of EU funds to candidate countries, is cautious about throwing open the door to the six countries. Berlin says organised crime and corruption are entrenched and the rule of law must be guaranteed as a priority.
Romania and Bulgaria
German diplomats are said to be wary of repeating mistakes made in 2007 with these two countries.
Many officials think they are still dogged by corruption and a weak judiciary and were allowed to join the bloc before they were ready.
However, Bulgaria now holds the EU's rotating six-month presidency. Sofia is keen to champion the membership drive of its Western Balkan neighbours by hosting a special Balkan summit in May.
Unlikely support?
Despite its own decision to leave the EU, the UK also backs the group's aspirations to join the bloc.
The country will host a top-level Balkan gathering in July.
What they are saying
"If countries are willing, then this is possible, but it is ambitious," - Johannes Hahn, EU enlargement commissioner.