EU chief calls for bigger budget despite Brexit loss
Comments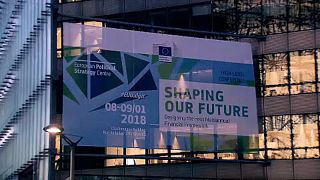 The next long-term EU budget has to be bigger, despite the loss of cash from Brexit Britain. That from the head of the European Commission at a finance conference in Brussels.
Jean-Claude Juncker said joint polices in areas such as defence, security, migration and agriculture will be money-hungry.
"Our British friends will be leaving us on the 30th of March 2019 so between now and then we need to do our utmost to find the means of reacting to the loss of a significant number of billions of euros, when a net contributor goes," he said.
The EU's budget Commissioner Guenther Oettinger said the gap from Brexit would be 12 to 13 billion euros per year.
Yes, policies can be reviewed and modernised says Juncker, but there won't be enough cash from the current one percent of EU GDP..
"The goal, if we want to increase the EU's budget, is not to increase the overall European public expenditure, it is to show that there is, by sharing some sovereignty, and thus by putting in certain financial means, greater efficiency and a better control of public expenditure," commented Jean Arthuis, a French MEP from the Alliance of Liberals and Democrats for Europe.
The conference in Brussels has kickstarted talks over the budget, which will start in 2021. Formal proposals are expected in June, which then need to be agreed.