No 'systemic threat' to rule of law - EU official on Hungary
Comments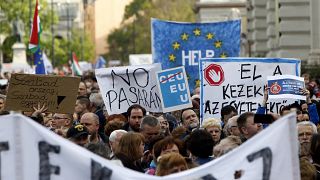 Hungary's coming under pressure to allay EU fears that its controversial policies, including on higher education, go against the bloc's values on rights and democracy.
The European Commission is warning Budapest that it could ultimately be sued in court, but it does not think there is a systemic threat to the rule of law.
"There is necessity to have a political dialogue with Prime Minister Orban and the Hungarian government, in what direction do you want to take the country, what is your vision of Europe, do you share our values and what does that mean, concretely sharing our values as you did when signing the declaration in Rome?" said European Commission Vice President Frans Timmermans.
"But in the formal sense there is, in the view of the Commission today, not a systemic threat to the rule of law in Hungary."
Along with higher education, Viktor Orban's policies on non-governmental groups and asylum rules are also causing concern.
It is feared Budapest's Central European University, founded by US financier George Soros, could be forced out under legislation signed despite street protests and global condemnation.
While some in the EU and its de-facto political capital want to be harsher on Budapest, others are more restrained.
Orban's warm ties with the government in Poland, which joins him in opposing Brussels on issues from migration to energy policy, means he may be shielded from any harsh moves that would need backing from all other EU states.