EU's Mogherini booed by pro-Russian Serbian MPs
Comments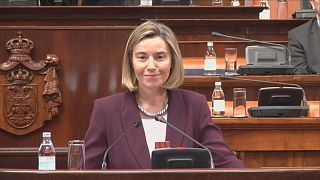 EU foreign policy chief Federica Mogherini has faced pro-Russian chants in the Serbian parliament.
Members of the nationalist Radical Party shouted down the ex-Italian foreign minister as she tried to address parliamentarians.
She was in the Balkans to boost EU ties with the region.
"We care about Serbia, we care about its present and about its future, because both your present and your future is linked to the present and the future of the EU. Not only the door of the EU is wide open for Serbia, we look forward to welcoming you inside our community," Mogherini said.
Serbia is officially seeking EU membership, even though the prospects look far off with the bloc consumed by Brexit and other crises.
One key condition is that Belgrade must recognise Kosovo, which declared its independence in 2008.
The EU says Serbia must normalise ties with Kosovo to stand any chance of joining.
Kosovo also needs to guarantee rights for ethnic Serbs living in its north as part of a 2013 agreement.