'Europe shows understanding towards Turkey' - migration commissioner
Comments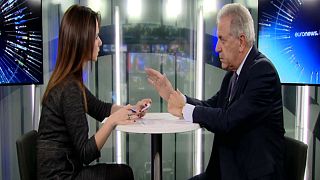 With members of the European Parliament recently voting to freeze EU membership talks with Turkey, and subsequent threats from President Erdogan, questions are mounting over the future of Brussels-Ankara relations.
Euronews' Efi Koutsokosta discussed this and other issues with Dimitris Avramopoulos, EU Commissioner for Migration.
Euronews: "Can you ignore the concerns expressed by the members of the European Parliament on human rights because of course after July and the failed military coup in Turkey, Erdogan has changed his attitude. So, can you ignore that and you just go on cooperating with them?"
Dimitris Avramopoulos: "We never ignore what the Parliament says but I want to remind you that this resolution is of (a) consultative nature."
Euronews: "But it is a strong political message?"
Dimitris Avramopoulos: "No doubt. And it's very, very clear. It's good to know that the ongoing negotiations are conducted by the European Commission and of course following a mandate of the Council."
Turkey 'under huge pressure'
Euronews: "Sometimes we have the impression that the European Union needs Turkey, Erdogan knows that and he uses this power he has because of the migration crisis?"
Dimitris Avramopoulos: "We do not ignore the fact that Turkey is under huge pressure, under attack by ISIS (so-called Islamic State), under attack by PKK, every week there are terrorist attacks in Turkey and we are still in the aftermath of the attempted failed coup d'etat. So, the situation even internally, politically is quite volatile.
"But what we need as Europeans? A stable and democratic Turkey. A reliable interlocutor in order to address all these issues. From our side, and I am talking about Europe, Europe shows understanding towards Turkey. That's why we have maintained and we tend to maintain this door of communication open."
Clashes in Greece
Euronews: "Now, regarding the situation in the EU, in the field, especially in a country which suffered a lot by the migration inflows, which is Greece. We know that recently Belgium repatriated its technical experts from there over concerns of security. Is this justified?"
Dimitris Avramopoulos: "There were clashes, from what I am in a position to know, I have been reported repeatedly, informed and reported by the Greek authorities, there were some problems in some camps but this issue is resolved and I believe that very soon Belgium will send back its experts to the Greek islands.
"(The) situation in Greece has improved during the last ten months. Yes, we are not there yet, there are still issues like unaccompanied minors. So, things are getting better and better."
Back to Schengen?
Euronews: "So, if the situation has been improved so much as you describe, why do you keep the internal border checks in Europe?"
Dimitris Avramopoulos: "There are three countries that have requested for an extension of the reintroduction of the internal border controls. You know that we have a project. We name it back to Schengen. And we are determined to go back to a normal functioning of Schengen.
"We responded positively to this request and for security and well justified reasons, the reintroduction of border controls is extended until the end of February. I believe that it will be the last day that we are going to have within Europe, around these three countries internal border controls."
Euronews: "So, you can say that in February these border controls will be lifted?"
Dimitris Avramopoulos: "Yes, yes. They are not allowed to be granted an extension. Unless there is a justified reason, very well explained that will convince us to do it. But I don't think that there is such an intention in these countries."