Transatlantic trade and defense cooperation after the US elections
Comments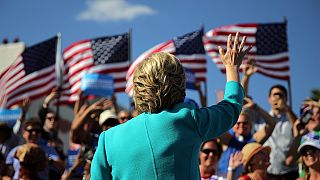 America will soon choose its 45th president. And it is fair to say that this presidential campaign has been one of the rowdiest and most polarizing in recent history. While both candidates have mostly concentrated their campaigns on domestic issues and on their plan to fight global terrorism, we have devoted our attention to what both candidates would have in store for Europe.
...one can imagine that once in the White House, she will return to the more pro-free-trade positions of the past.

Researcher on Transatlantic Relations
Think defense cooperation and NATO, think trade. Is significant change in store with Hillary Clinton? Probably not. How about Donald Trump?If he gets his way, it could be the end of the transatlantic partnership as we know it.
Trump has been particularly outspoken about NATO, questioning its relevance in the fight against terrorism. While Clinton says she wants to continue to rely on her European allies and share intelligence.
Valerie Zabriskie traveled to Germany where the ties that bind Europeans to Uncle Sam are still very much valued.
Today the Fulda Gap is a peaceful landscape of rolling hills, but for over 40 years, during the height of the Cold War, this place was said to be the potential battleground for World War lll.
"We are standing here at the hottest spot of German history, of European history," Ricarda Steinbach, director of the Point Alpha memorial, told Euronews.
"NATO and Warsaw pact troops were looking at each other only two meters apart, here at this point," added Steinbach.
The fear was that Soviet troops would invade Western Germany and US-led NATO troops, numbering some 400,000 would retaliate .
And the bigger fear: that nuclear weapons would be used – devastating not only Germany but all of Western Europe.
This of course never happened.
05/08/1997: Christian Science Monitor: A German Town Remembers Life on the Cold War's Edge http://t.co/WG81uBOku9

— Charlotte L Coolidge (@C_Coolidge) July 7, 2015
But almost 27 years after the collapse of the Iron Curtain, this memorial serves as a reminder of the American presence once here and the gratefulness felt by many for a US military ready to defend Europe.
---
Renate Stieber worked as a public affairs officer with the US troops for 24 years.
Euronews – Valerie Zabriskie
"What does this remind you of when you come up here?"
Renate Stieber – former public affairs officer
"It reminds me of the duty the American soldiers carried out here, in the tower for example," Stieber told Euronews. "That they were watching the area for twenty four hours which you can see right now. And what they contributed to our peace and freedom. As long as they were here, the western people could sleep well at night."
---
Donald Trump calls NATO "obsolete" https://t.co/xFrXUeoUyF via HuffPostPol</a></p>&mdash; Edward A. Rowe (EdwardARowe1) April 4, 2016
Donald Trump
But with the world's eyes glued on Donald Trump, sleeping well at night could get a bit harder.
Trump has made it no secret that when it comes to security, Europe needs to do more.
"I will make a long statement about NATO, talking about the fact that many countries are not paying their fair share," Trump said in a televised speech during his presidential campaign. "That means we are protecting them and they are getting all sorts of military protection and other things and they're ripping off the United States. And they're ripping you off. I don't want to do that. Either they pay up including for past deficiencies or they have to get out. And if it breaks up NATO, it breaks up NATO."
---
Checkpoint Charlie, Berlin
For Trump, it's payback time. Payback for all the years the United States sheltered Europe during the Cold War.
He has stated the fact that only 4 out of NATO's 28 members pay the required 2 percent of their GDP in defence. But how do his European allies feel about this? And about him?
"Here in Berlin, like throughout most of Europe, the very idea of the next US president being Donald Trump seems almost surreal, like a big joke. But not everyone is laughing,especially when it comes to Trump being ready to break-up NATO which has been the foundation of the Transatlantic alliance since 1949."
Judy Dempsey is an Irish journalist from the Senior Associate Carnegie Europe. She has been covering NATO and European security and foreign policy issues both during and after the Cold War.
"Trump's comments that NATO allies, Europeans in particular, have to pay their fair share, that's true," Dempsey told Euronews. "But frankly it's nothing new.
"Successive American administrations have said the same thing. And actually since the Russian invasion of Crimea, and in Eastern Ukraine, the Europeans are improving a little.
"As for NATO being obsolete, well what would the Americans do with their coalitions of the willing, like-minded allies? What would they do with the NATO alliance that sees the threats and challenges facing not only the United States but Europe as well.
"So to say that NATO is obsolete is like saying that the Transatlantic alliance that was built up after 1945 on the ruins of a destroyed Europe, that it's over."
The future of transatlantic trade
Donald Trump wants more protectionism. Clinton on the other hand supports free trade although she has recently hinted that she might kill off a planned trade deal with the EU: namely the Transatlantic Trade and Investment Partnership also known as TTIP. Some say it might be a ploy to rally the left fringe of her electorate. But what would TTIP entail for Europe should it materialise after all?
Hans Van der Brelie caught up with TTIP supporters and opponents in Barcelona, Spain.
Barcelona is a left-leaning city with a vibrant protest scene. There is an increasing public backlash against globalisation fuelled by populist movements on the radical right and on the radical left wings, both are searching for identity and a world protected against products coming from abroad.
Lucia Barcena coordinates protests all-over Spain, including against TTIP, through her group "Ecologists in Action." Big business, she believes, is bad news: "Our democracy is under a big threat. We could lose our sovereignty as people," Lucia told Euronews.
"With these treaties we transfer our powers, our public institutions, the civil society into the hands of big corporations… and with these treaties, basically, we are killing the states."
Here's why we should hope Wallonia holds firm against the fake trade deal Canada and EU are trying to strike: https://t.co/TK3szP0Eot#CETA

— GeorgeMonbiot (@GeorgeMonbiot) October 24, 2016
---
FICOSA – is a Spanish multinational that produces car components. Almost all major car brands around the world use products manufactured by FICOSA. It's a real global player with an annual turnover of over one billion euros. FICOSA has branches in Europe, Asia, South and North America.
We met with Emilio Varela, vice-president of the Spanish association of car components manufacturers (SERNAUTO). Seatbelts, lights, breaks… most components have to be certificated twice – on both sides of the Atlantic – for the car component industry that ads up to twelve billion dollars per year… TTIP could mean the end of this.
"Twenty-six percent of the costs of our products are increased because of different regulations between us and the USA," said Varela. "If this (TTIP) agreement could solve this point, our success would be bigger, our business would be much bigger and a lot of employment would be created in our country… if we gain twenty percent more of turnover (the car component industry) could create 15,000 jobs in Spain."
---
Back in Barcelona we met with (anti-TTIP-protestor) Lucia again in a colourful soap-shop. LUSH is also a global player. The cosmetics company employs 15,000 people in outlets all over the world, including 250 in Spain… but it backs anti-globalisation activists like Lucia… LUSH produces locally – and fights against animal testing, compliance manager Victor Manuel explained. He fears that TTIP would open up European doors for cosmetics that are not in line with the company's ethical branding.
"One good example against TTIP is that we will lose the protection against the use of forbidden chemicals in cosmetics in Europe. In Europe there are some 1,300 banned chemical products in cosmetics – while in the USA there are only eleven chemicals banned from cosmetics," Lush's compliance manager Victor Manuel told Euronews.
"An example is lead: in the USA it is still used in cosmetics such as in lipsticks… not like this one produced by us," added Manuel.
"Labeling is the only tool people have to understand what exactly the product they are buying contains, where it comes from and what exactly is in it," Lucia Barcena said.
"But the TTIP agreement is threatening this (the labelling system containing this) basic information, important for the consumer (to know) whether to buy or not to buy a product – depending on our ethical values."
Anti-TTIP protesters were meeting to prepare the next day's demonstration. Lucia planned a human chain, encircling the premises of the European Union in Barcelona. Meanwhile, on the other side of the Atlantic, Clinton was meeting Trump: while Clinton's position on TTIP is ambiguous, the Republican presidential candidate claims protectionist preferences. The populist far-right in the US and radical left in Spain actually share similar positions on this issue…
We met the Spanish secretary of state for trade in mid-October. Together with his Swedish counterpart, he rallied for TTIP support amongst European colleagues. Together with ministers from Portugal, the Czech Republic, Denmark, Finland, the Baltic states, Italy, Ireland and the United Kingdom he sent an open letter to the European Commission, urging a relaunch of the negotiations.
"On both sides of the Atlantic: who are the TTIP-killers, be it in Europe, be it in the United States?"
"We see that there is some opposition to TTIP, that is true," said Spanish Secretary of State for Trade Jamie Garcia-Legaz Ponce. "We have seen that on the extreme left and on the extreme right – in many areas across the European Union. On the US side there is some protectionist movement, coming from populist movements as well.
"We have seen Mr Trump attacking free trade agreements. We believe that this makes little sense…The prosperity of the US has been propelled by free trade in the last few decades. Free trade is good and TTIP is a way of moving free trade forward."
---
Lucia is not against free trade either. But she is against TTIP because she believes that the transatlantic trade agreement could downgrade ecological and social standards used in Europe. An estimated 20,000 protesters were demonstrating against TTIP in Spain including around 4000 in Barcelona and Madrid.
"Well, the voices of TTIP supporters are almost not audible – while the voices of TTIP opponents are very noisy… I will ask, why people around here are against TTIP."
Opponents have concerns that a special arbitration system will be created in order to settle disputes between states and foreign investors. Critics say, this would allow multinationals to dictate public policy.
NATO

and

TTIP

Sophie Claudet spoke to leading expert on transatlantic relations, Mario Del Pero to guage how things might look under both presidential candidates. Though TTIP is in a 'comatose state', what would happen if Hillary roused it from its slumber? And what would NATO look like under Trump?

Euronews – Sophie Claudet

"Donald Trump says that NATO is obsolete, that it is not equipped to fight terrorism. Any thoughts on that?"

Mario Del Pero – Researcher on Transatlantic Relations

"Well Trump has said what many in reality think… NATO is in a way obsolete. It has been so since 1991, it has been in search of a mission and of a rationale since then. If we look at the many NATO strategic concepts elaborated over time, they tend to be very rich in platitudes and less so in substance.

"One could say that the Ukranian crisis has somehow reinvigorated NATO by reaffirming its primary mission, namely US political and diplomatic before the military support to European countries and to many frail European democracies. At the same time, once again, the Ukranian crisis has produced divisions within Europe and within NATO. That's the main variable we now have to deal with.
#DonaldTrump is now a fan of NATO. Earlier this year, he called NATO "old and obsolete." #debatenight

— Stan Spaght (@Spate57) October 20, 2016
Euronews – Sophie Claudet
"Let's now turn to Hillary Clinton, she still believes in NATO but do you think she'll be more demanding of her allies?"
Mario Del Pero – Researcher on Transatlantic Relations
"Now the main issue here is again Russia. In the electoral campaign, Clinton and many of her advisors have taken strong anti-Russian positions.
"Now, this emphasis on Russia places Europe back again at the centre of America's geopolitical interest but somehow imposes a new role on Europe and especially to some European powers and, I think of Germany primarily which has somehow to mediate between Russia and the US and perhaps even contain some excessive American pressure on that score.
"You're OK with your nominee having a bromance with Putin?" —POTUS</a> to the GOP</p>&mdash; Hillary Clinton (HillaryClinton) October 20, 2016
Euronews – Sophie Claudet
"Let's now turn to trade and particularly to TTIP. Obama won't have time to push for it, Trump would kill it. Clinton is going back on her word that she supports this particular agreement. Some European countries as you know are completely against it. So is TTIP dead?"
.PIIE</a> Bergsten: if <a href="https://twitter.com/hashtag/TTP?src=hash">#TTP</a> gets out of steam, a Clinton Admin might revive <a href="https://twitter.com/hashtag/TTIP?src=hash">#TTIP</a> <a href="https://t.co/H1oBUlSN9A">pic.twitter.com/H1oBUlSN9A</a></p>&mdash; Domenico Lombardi (domeniclombardi) October 26, 2016
Mario Del Pero – Researcher on Transatlantic Relations
"The TTIP lies in a comatose state, that's for sure, although we can not yet declare its final death. Now, Hillary Clinton has taken an anti-free-trade stance position during the campaign but mainly out of political and electoral convenience. So one can imagine that, once in the White House, she will return to the more pro-free-trade positions of the past. Given the current political climate in the US and in Europe as well, I assume she will do so silently, quietly and slowly."
Is TTIP dead? Maybe not – but the proposed free trade deal between the EU and the United States is at least years away… Promoting growth, job-creation and the future of TTIP depends on the outcome of elections on both sides of the Atlantic whatever the results, a lot is at stake for the US and Europe.
Live updates from our Insiders team