Parisians angry, frightened after terrorist killings, but resolute
Comments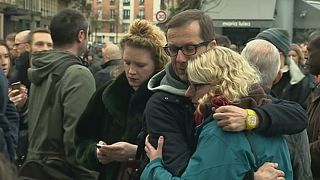 In the heart of Paris, a few days ago, journalist Daniel Psenny videoed the back of the Bataclan concert venue from his apartment window, people scrambling out, some collapsing, shot. After a few minutes, he went downstairs to open his building to people seeking safety, and was wounded himself while helping.
It's the depth of shame how they soil the reputation of Islam!
The killing had started at 21h40 on Friday November 13th. Three armed men held hostages in the Bataclan for three hours. The police counter attack at 00h20 was over by one in the morning Saturday. At least 89 people had been killed and hundreds wounded.
A young woman who escaped the massacre said: "I was in the audience, and the concert had been going for about an hour, and we started hearing noises from the back of the room. The crowd started shifting, people panicking to get out. I was in the stands and everyone got on the floor behind the seats and started going up towards the emergency exits, and we managed to reach the staircase and then hide in a back dressing room. We stayed there, barricaded ourselves in, and waited till the police came to get us."
Our correspondent James Franey reported: "Prosecutors have opened what they are calling an anti-terror investigation. Many details remain unclear. Police believe some gunmen may still be on the run."
Paris the next day appeared deserted. Most people knew what had happened and stayed in, tourists also. President Hollande had declared a state of emergency, enacting special provisions, suspending parts of constitutional law.
At the Eiffel Tower, an elderly French woman said: "I went through the war in Algeria. This is guerrilla warfare, it's not a war [but] fighting terrorism is terribly hard."
The 10th arrondissement [district] was sombre outside the restaurant Le Petit Cambodge and the bar Le Carillon where 15 people had been shot dead with assault rifles from a passing car.
Our correspondent Gregoire Lory reported: "The French and Parisians gather in the wake of the attacks which struck Paris; each showing solidarity in their own way. Some lay wreaths of flowers, others simply want to be there with the crowd, others give blood, as here in St. Louis, where some Parisians waited for more than an hour to be able to donate their blood."
The Georges Pompidou hospital treated 50 people for serious wounds.
Philippe Juvin, head of the emergency service, happy not to have been left short-handed, said: "When I got here at 11, first I had the patients who could wait till next day taken out of the emergency wards, and then I called up staff asking them to come back to work, as provided for in the plans. I had a pleasant surprise to find that not only those I'd called showed up, but others too, who I hadn't called, even people I didn't know. By that I mean several doctors, from the 15th arrondissement in particular but not only. At one time I had more doctors here who aren't part of my service than those who are, because people decided to lend a hand. It was really quite something!"
The Barbès neighbourhood is usually lively on a Sunday morning. It is a part of northern Paris with people of many ethnicities, Muslims among them, who told us they are afraid now that they will be blamed for the terrorists' actions.
A man at an almost empty cafe said: "My advice to the North African community and to all Muslims is to show their solidarity and to demonstrate against everything those people are doing."
The Charlie Hebdo and kosher supermarket killings eleven months ago have not been forgotten.
Another man in Berbès said: "It's the depth of shame how they soil the reputation of Islam, because it is the opposite… it is not what those people do!"
Our correspondent Valerie Gauriat said: "At midday prayer time, there were only a few worshippers at the Paris Grand Mosque, reluctant to talk. The Muslims we met are worried and angry. They cannot find words strong enough to condemn the authors of the attacks, above all calling for their community to speak out clearly against the terror committed in the name of Islam."
In spite of restrictions against public gatherings in Paris, people needed to come together for comfort and demonstrate their determination not to let hate triumph. One of the most symbolic gathering areas is the Place de la Republic.
James Franey reported: "Parisians are trying to return to their normal lives, but the question is what will happen when the three days of national mourning come to an end. Politicians from both the left and the right are trying to position themselves as being the toughest on terror."
It was the first time in the history of the Fifth Republic that national mourning was proclaimed for three days. President Hollande, with his ministers, chooses the Sorbonne University headquarters, symbol of French culture, science and the arts, for a ceremony to honour the victims with a moment of silence.
A law student at La Sorbonne said: "He is sending young people a strong message. After all, it's our generation who's going to have to deal with some of these challenges, later. I find it a fine gesture. It moves me. It helps me."
They are already being dubbed "la génération Bataclan" — the young confronted with adult brutalities.
A student at Lycée Voltaire, which is close to the scene of the mass killings, said: "The previous generation has left us with a world in disorder, a world of war. We have a future, but we wonder if that's really such a good thing for our children. There are already so many problems, whether it's the environment, so many problems affecting the planet… If, on top of that, people fight with each other, we can't be sure of a good future any more ."
Another student, clearly resolved to 'seize the day', said: "What has happened is not going to stop us from living. I just want to say, we're going to keep on living like we did before. Deep down, we are sad, all of us have been shocked by it, but I don't think this is something to be afraid of. I think we have to make the most of the present and move forward, in spite of everything that is happening."
The attacks targeted cultural venues, social and recreational. It was, many felt, an act of Parisian defiance to go out on Tuesday evening around the national Opéra Bastille.
Our correspondent Fabien Farge said: "In spite of the tension and the rain, they came to have dinner, to savour these terraces of Paris. They came to watch a football match, to sing the Marseillaise, to say this is the France they love; this is the France that loves life."
Meanwhile, investigation led to Belgium. Molenbeek, near Brussels, again proved the nursery of several of the attackers, the brothers Salah and Brahim Abdeslam, and also the head of the terrorist group which struck Paris: Abdelhamid Abaaoud.
Our correspondent Sandor Zsiros said: "Security experts warn that Belgium might be one of the weakest points in the EU's fight against terrorism. Therefore, we might expect similar raids here, in the near future."
Early on Wednesday, the residents of Saint Denis, north of Paris, were shaken from their beds by heavy gunfire and explosions. It was later revealed the police fired 5,000 rounds. Key suspects were in a St Denis apartment.
One terrified woman said: "We don't know who these people are! What are these people… coming out of Belgium… hiding among ordinary people… Who are they really?! Are they truly Muslims? No!"
A trembling man said: "It is frightening. You realise you're not safe in your own home. They might be there and you don't even know it!"
Our correspondent Valerie Gauriat concluded: "Terrorists in the heart of Saint Denis… the residents are in shock. Life stood still during the nightmare, and it looks like the fear will last."