Belgian security officials hit back at French criticism
Comments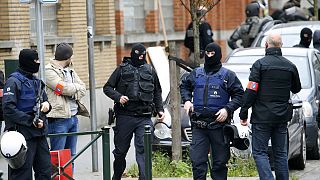 Belgium has hit back at French criticism of the country's security services.
An intelligence official in France told AFP on Tuesday that "the Belgians just aren't up to it".
Authorities in Belgium have released a new mug shot of the key suspect in the Paris attacks investigation.
Salah Abdeslam, 26, is still on the run; Europe's most-wanted man grew up in the district of Molenbeek in the northwest of Brussels.
The Belgian government denies that its intelligence services have under-performed.
"At the start of the year, everyone praised an operation that took place in Verviers and Brussels, which allowed to prevent a number of terror attacks," said Didier Reynders, the
Belgian foreign minister.
"We do all again to track down the sources and break up other organisations, whether the terrorists are French or from somewhere else."
Belgian police raided a house in Verviers in the east of the country in January, arresting several suspected jihadists.
Intelligence officials also brushed off the criticism from France.
"Maybe it's a bit simple for the French to hold Belgium responsible for this," said Guy Rapaille of the Belgian Intelligence Agencies Review Committee.
"In principle, i think that 3 Belgian nationals are linked with this attack and they came from Brussels. but that also means that there are 5 French people who were actually in France."
Soliders have been stationed on the streets of Brussels since January, shortly after the attacks on French magazine Charlie Hebdo.
Ministers announced on Tuesday that an extra 300 will be deployed across the country, raising the number to 520.
Meanwhile Belgium's friendly football match with Spain was cancelled on Tuesday owing to security concerns.