Europe's carmakers 'tricking' drivers on fuel efficiency, new report claims
Comments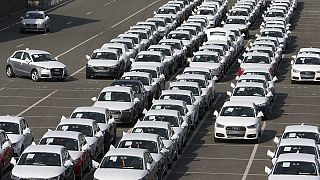 Europe's carmakers are taking their customers for ride by tricking them into believing their vehicles are more fuel-efficient than they actually are.
It means drivers are spending an extra four hundred and fifty euros a year on fuel as a result.
Those are the findings from a new report by lobby group Transport and Environment
Their research found the Mercedes A, C and E class, BMW's 5 series and Peugeot 308 are out in front.
They say the cars consume 50 percent more fuel on road than they did in their lab test results.
"At the present time the tests are carried out by the manufacturers' own laboratories, they are carried out by people been paid for, by the carmakers themselves, and even the organisations overseeing those tests are being paid by the car industry," said Greg Archer of Transport and Environment.
Euronews tried to contact the carmakers in question, but our calls went answered.
But the European Automobile Manufacturers Association (ACEA), which represents the interests of carmakers, said in a statement: "It has always been fully understood that driving under a laboratory test cycle may be different to real-life driving conditions. The purpose of the legal test is to enable the customer to make comparisons between vehicles in terms of their pollutant and CO2 emissions, based on a standardised test."
Transport and Enviroment's report also says new cars in Europe spew out an additional 40 percent in CO2 emissions than their lab tests show.
Time to crack down, says Green MEP Bas Eickhout of the Netherlands.
"The European Commission knew that the real emissions were far higher than what was measured, so they could have done far more activities to make sure that car industry is complying with the standards. I think the European Commission at this moment, is too easy hiding behind national authorities," he told euronews.
Transport and Environment now wants a wider investigation into 'defeat devices', calling the Volkswagen diesel scandal "just the tip of the iceberg"